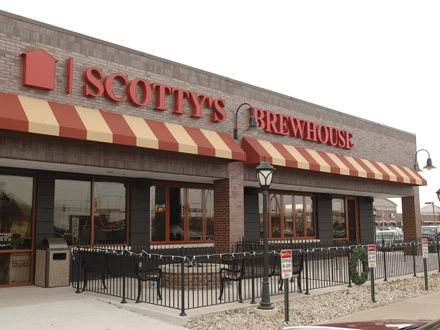 The founder of Scotty's Brewhouse is negotiating to sell his Indianapolis-based chain of eateries for about $20 million to a partnership that could take the brand international with hundreds of new locations.
Pacific Restaurant Partners is set to purchase the entire assets of Scotty's Brewhouse, according to documents obtained by IBJ spelling out the terms of the deal, which include employing Scotty's owner Scott Wise for five years.
The deal includes the 14 Scotty's restaurants along with Wise's two Thr3e Wise Men brewpubs.
Pacific Restaurant is a partnership between Scottsdale, Arizona-based Due North Holdings and Tokyo-based Hotland Co. Ltd. Wise did not return a message seeking comment on Monday, nor did Due North officials.
Scotty's apparently is part of Pacific Restaurant Partners' ambitious plan to open as many as 1,000 restaurants of different stripes by 2020.
Due North operates and franchises restaurants in the quick-service and family-dining sectors. The company in March announced its partnership with Hotland Co., creating Pacific Restaurant Partners.
Their plans called for franchising quick-service restaurants in the United States and Canada that are a combination of Hotland's concepts and the partnership's new brands developed internally and through acquisition. Pacific Restaurant Partners plans to open 1,000 restaurants by the end of 2020 through acquisitions and organic growth, the announcement said.
Hotland's holdings include Cold Stone Creamery and Coffee Bean and Tea Leaf in Japan.
Without naming Due North or Pacific Restaurants, Wise mentioned in a taped segment about entrepreneurism that aired Thursday on WISH-TV Channel 8 that "they want to take us from 20 restaurants to about 200 restaurants for the next four years, including overseas growth into Japan."
Wise, meanwhile, would remain involved in his restaurants under the new ownership. He can remain with the new company for at least five years and would be paid $350,000 annually, according to the documents obtained by IBJ. He also would receive a 5 percent stake in the venture and have the opportunity to boost his stake if it hits certain performance targets, the documents show.
Wise was an inexperienced 22-year-old when he opened his first restaurant in Muncie in 1996, with financial backing from his father, after graduating from Ball State University.
He built a second Scotty's, in Bloomington, followed by another, in West Lafayette. He has grown Scotty's to 14 locations, all in Indiana except for an outpost at Punta Gorda, Florida. His properties include a Scotty's Dawghouse on the Butler University campus and a Scotty's Brew Club in Franklin.
He opened the first Thr3e Wise Men, in Broad Ripple, in 2010, and added a location in Muncie last year.
Scotty's Brewhouse entered the Indianapolis market in 2009 by opening downtown at Allen Plaza at 1 Virginia Ave., and on the north side at 3905 E. 96th St. The expansion represented quite a leap for Wise, taking him from the college-town niche where Scotty's had thrived to a major metropolitan market.
Wise has experienced a few stumbles along the way. He lent his name to upscale burger joint Scotty's Lakehouse near Geist Reservoir and a sister restaurant in Columbus, which his team operated for two years under a management agreement with another restaurant owner. Those locations closed in late 2012 after a dispute between the parties.
Please enable JavaScript to view this content.