Compulsive bargain-hunters might want to steer clear of the Humane Society of Indianapolis.
The management
has been running adoption specials that have people lining up outside the Michigan Road shelter on weekends. July 3-11, the
Humane Society offered all adult cats and dogs for $17.76. About 130 animals were adopted under the Independence Day promotion.
With many cats giving birth to litters in summer, the shelter is offering a two-for-one cat special until July 31.
Visitors to the shelter will notice a new "lounge," where certain cats roam free. The room was recently
redesigned to accommodate cats with feline immunodeficiency virus, or FIV. Director of Operations Christine Jeschke said the
new quarters will reduce stress on the cats, which helps them stay healthy, and keep them comfortable for what is typically
a long stay.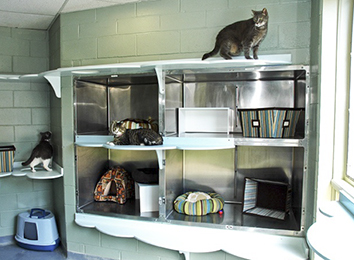 Healthy cats roam around a new room at the Humane Society of Indianapolis.
Many shelters automatically
euthanize FIV-positive cats, but the Humane Society of Indianapolis changed its policy in January. Twelve cats have been adopted
since then, and the last one in the shelter found a home recently. (Other cats are using the new lounge when no FIV carriers
are in the shelter.)
Jeschke said she made the change because FIV-positive cats can live long lives. HSI is even
sending the sick cats to live with other felines. If all the cats in a house are neutered, Jeschke said, their behavior should
be docile enough to avoid the deep bite wounds that typically spread the disease.
Please enable JavaScript to view this content.