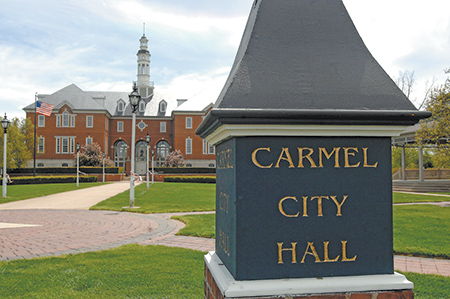 Salary increases for elected officials, especially for mayors, can be a contentious issue for local leaders to grapple with every year.
Municipalities want to attract qualified and knowledgeable candidates to run for office, but communities have to be cautious about how public dollars are spent. Plus, some argue that politicians know when they run that the pay in public office isn't as high as executive-level positions in the private sector.
So it's no surprise that a proposal to raise salaries in Carmel has raised some ire. Local officials have been debating the issue for the past few weeks, after a city-commissioned salary study suggested hefty raises for the mayor, city council members, the city judge and clerk-treasurer to bring their pay more in line with similar out-of-state communities.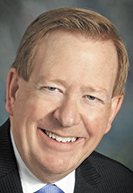 Brainard
If the council decides to adopt the study's recommendations, Mayor Jim Brainard would see a 40 percent spike in salary, pushing his pay to $179,344—higher than the Indiana governor, most U.S. Congress members and justices on the Indiana Supreme Court and Court of Appeals.
But a majority of the council members say that steep of an increase—especially at one time—might be too much and are instead suggesting a 2 percent raise for all elected officials. That's more common in other communities, according to political experts.
Paul Helmke, an Indiana University professor and former mayor of Fort Wayne, said mayors—and other local elected officials—usually take the same salary increase that city employees are set to receive, usually about 2-3 percent.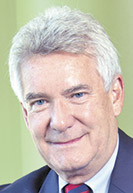 Helmke
"It's sort of a better way to explain, defend it and move forward," Helmke said.
Within the last 10 years, Brainard received raises ranging from zero to 3 percent. In 2006, after the last time the city commissioned a salary study, his salary increased by more than 15 percent.
Brainard declined to say whether he supports the council's preference for a 2 percent raise, which would put his salary at $130,504.
"That's the council's decision," Brainard said.
The council could vote on the salaries at its meeting Oct. 17.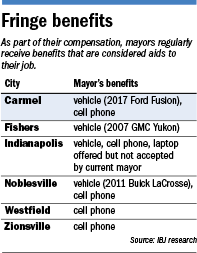 Helmke argued that salaries for mayors should be competitive, especially because mayors in Indiana have a long list of responsibilities and duties.
"We expect a lot out of them. Really, it's a 24-7 job. You're never off the clock," Helmke said. "We should pay the people that take those jobs a fair amount, even though they're politicians."
But mayors in some of Carmel's neighboring cities aren't planning to take pay increases next year, including Scott Fadness in Fishers and Tim Haak in Zionsville.
Fadness will earn $125,000 and Haak's salary will be $120,000.
"That's admirable, and that might be the right thing to do, but that's how things get out of whack," Helmke said.
Indianapolis Mayor Joe Hogsett also isn't taking a pay boost next year. He will continue to earn $95,000—a figure some believe is far too low for the leader of a major metropolitan area.
"That's really outrageous," Helmke said. "I was shocked when I heard the Indianapolis mayor was paid that low."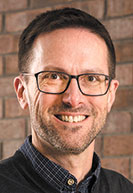 Downs
Andrew Downs, director of the Mike Downs Center for Indiana Politics, said it's becoming more common for local leaders to argue that salaries for elected officials shouldn't have to have significant raises or compete with the private sector.
"There is a movement right now that has a lot of people saying being mayor, being a council member, is a public service," Downs said. "If they want to make a lot of money, they'll go do that elsewhere."
Helmke agreed it's difficult for public entities to compete with the private sector but said the pay shouldn't be a significant step down for someone seeking office.
"It's always going to be less than the private sector, but you do want to attract good people to the job," Helmke said.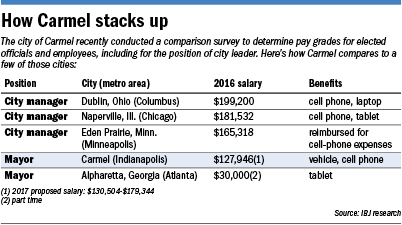 More than money
On top of base salaries for mayors, most also receive benefits that are offered to municipal employees, like health care and pensions.
But they are regularly provided with other amenities as well, including vehicles, cell phones and laptops.
When Brainard ran for office in 1995, he promised voters that he wouldn't use a city vehicle.
"I was trying to make the point that I wanted to make changes in how the cities did some things," Brainard said.
But when he started his second term, Brainard decided to accept the perk and has used a city vehicle ever since. He pays taxes on it because its recorded as compensation, but the city covers all of the expenses, including gas and maintenance.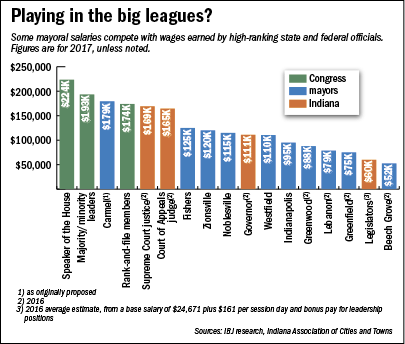 Brainard said it's a traditional benefit that the mayor prior to him had, and he believes it should be provided given the number of city tours he's known for offering visitors.
He's currently driving a 2017 Ford Fusion Hybrid that the city is leasing for three years, which costs $649 per month.
Prior to that, Brainard drove a 2014 Ford Fusion Hybrid. That two-year lease cost the city $775 per month or $18,600 for the entire term.
Those costs do not include what the city pays for in gas or maintenance. City officials told IBJ that Brainard uses the same fuel pumps as the public safety, utility and street department vehicles, so it would be "too labor intensive" to determine which charges could be attributed to the mayor.
So far in 2016, the city has paid $3,032 for body work, cleaning and detailing.
Helmke said vehicles are "pretty standard" for mayors because they are constantly on the job.
During his time as mayor of Fort Wayne, Helmke said, he had a city-provided vehicle that he drove, but annually paid the city for a portion of the expenses to cover the personal usage. He also said if his family took an out-of-town vacation, they would use a personal vehicle.
While it is common for other northern suburb mayors to have vehicles, Brainard's appears to cost the most.
Fadness drives a 2007 GMC Yukon and declined a vehicle upgrade the last two years. The city estimates it pays $10,000 annually to provide the vehicle.
Noblesville Mayor John Ditslear drives a city-owned 2011 Buick LaCrosse, and city attorney Mike Howard estimated it only costs $1,000 per year for fuel and maintenance.
Haak and Westfield Mayor Andy Cook both have access to municipal vehicles, but regularly drive their own vehicles. Hogsett could have a city-leased or -owned vehicle at his disposal, but has declined the offer.
Several of the cities that Carmel compared itself to in the salary study don't offer a vehicle as a perk, but the mayors and city managers do have cell phones, tablets and laptops.
Downs said benefits like that aren't typically expensive, so it's an easy perk for communities to offer to elected officials.
"Those are, in the grand scheme of things, pretty small," Downs said.•
Please enable JavaScript to view this content.