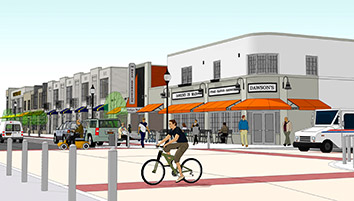 The town of Speedway took home the highest honor at Indy Chamber's annual Monumental Awards gala Thursday night.
The 39th annual event, which recognizes excellence in architecture, engineering, neighborhood revitalization and construction, took place at the Indiana Roof Ballroom.
The revitalization of Speedway's Main Street won the Monumental Award, which was selected by an jury of community and professional leaders from the Indianapolis region.
"The incredible renovation of Speedway's Main Street took nearly a decade to become the bustling urban center it is today, welcoming residents and visitors year-round," Indy Chamber CEO Michael Huber said in written remarks.
Other award winners:
—Architecture: IUPUI Science Engineering Lab Building, BSA LifeStructures;
—Construction: Indianapolis Motor Speedway Project 100, Hunt Construction Group;
—Engineering: U.S. 31 Hamilton County Reconstruction, CHA
—Innovative Reuse: The Pin, Deylen Realty;
—Interior Design: LDI Ltd., CSO Architects Inc.;
—Landscape Architecture: Gate 1 Plaza, Browning Day Mullins Dierdorf;
—Public Art: Talking Wall, Arts Council of Indianapolis;
—Real Estate Development: The Barton Block, Insight Development Corp.
Please enable JavaScript to view this content.