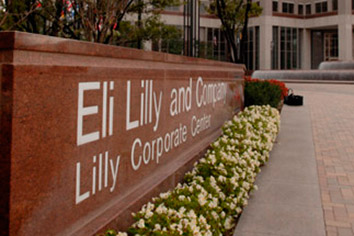 John Lechleiter is going out as CEO of Eli Lilly and Co. on a disappointing note, with the company reporting earnings that fell well short of analysts' expectations.
The Indianapolis-based drugmaker on Tuesday morning reported third quarter profit of $778 million, or 73 cents per share. Adjusted for non-recurring costs, per-share-profit was 88 cents per share, eight cents below the average estimate of 10 analysts surveyed by Zacks Investment Research. Revenue was $5.19 billion, below the estimate of $5.35 billion from four analysts surveyed by Zacks.
Compared with the same quarter a year earlier, revenue increased 5 percent and profit fell 3 percent.
"Lilly's volume-driven growth in the third quarter was once again led by our portfolio of recently approved medicines," Lechleiter, who is retiring and will turn over the CEO's job to company veteran Dave Ricks on Jan. 1, said in a statement. "Our pipeline also continues to advance with a wide array of promising treatments for conditions from Alzheimer's disease to diabetes and cancer. Our focus on innovation and bringing important new medicines to the people who need them is leading Lilly into a new era of growth for the benefit of patients and shareholders alike."
Five new drugs, led by the diabetes treatment Trulicity, posted sales of $507 million in the third quarter. In the same period a year earlier, two of the five were not yet on the market, and the three that were had sales totaling $204 million.
Dragging down results in the latest quarter were disappointing sales for Lilly's Humalog insulin. Humalog, the company's top-seller, posted revenue of $641 million, down 9 percent from the same period a year earlier. 
Also hurting results were losses of patent exclusivity for its antidepressant Cymbalta drug in Europe and Canada, its antipsychotic treatment Zyprexa in Japan and cancer drug Alimta in several countries. Zyprexa sales were $149 million, down 37 percent from a year earlier.
Lilly shared sagged in premarket trading Tuesday morning, dropping 2.8 percent, to $75.40.
Please enable JavaScript to view this content.