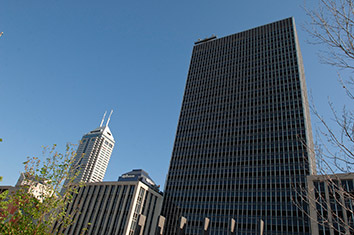 Ratings agency Moody's Investors Service has affirmed the city of Indianapolis' AAA credit rating, bringing a sigh of relief to officials who worried that lower fund balances might cause a downgrade.
In a report released last week, Moody's said the city's ability to maintain a AAA rating on $78.6 million of general obligation debt reflects a "healthy financial position despite continued draws on reserves to support ongoing operations and capital maintenance."
The rating of the city's general obligation debt is considered the primary rating for the city.
But Moody's downgraded the city's rating on $410 million worth of moral obligation debt, which is "issued for less essential purposes," to AA3 from AA2.
The report said the outlook for all of the ratings remains negative, a condition that could be a precursor to a downgrade. Moody's revised the outlook from stable to negative last year.
"Indianapolis' current fund balances are healthy, but continued draws on reserves to support operations and capital maintenance will pressure the city's financial position going forward," the report said.
Factors that can lead to a downgrade are declines in the valuation of the tax base, material increases in debt levels, and continued draws on fund balances.
Mayor Joe Hogsett said in a written statement to IBJ that the latest Moody's rating "affirms our new fiscal strategy and solidifies the important work done by the City-County Council in passing the 2017 budget."
Hogsett's administration raised a few eyebrows among Republican City-County council members when it argued that millions in income tax reserves returned to the city from the state for the purpose of road funding should remain parked in the city's rainy day fund—and not spent—for fear that the city's bond rating could go down, which could lead to higher interest rates for the city.
Hogsett instead has proposed renewing some of the city's soon-to-be-expiring bonds to pay for road funding. Those conversations are ongoing.
"By cutting spending, reducing our structural deficit, and defending the city's Rainy Day Fund, we are sending a message to financial markets—and Indianapolis taxpayers—that our city is on a safe path toward fiscal stability," Hogsett said.
Council Vice President Zach Adamson said he was encouraged by the Moody's rating but said "we're not out of the water by any means."
Please enable JavaScript to view this content.