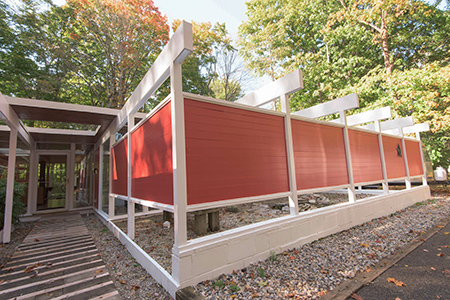 When he's not handling court cases, Indianapolis bankruptcy attorney K.C. Cohen enjoys a particularly complex hobby—home remodeling. Over the last couple of decades, he's resurrected more than a dozen properties, including his current residence, a California ranch-style abode in Washington Township where he and his wife, Faith, raised their three daughters.
To call the place quirky would be an understatement.
"It's just the strangest house you could ever imagine in central Indiana," Cohen said.
He's a big fan of windows and open floor plans, which explains why the structure, built in 1957, grabbed his attention when he saw it in 1991. Its exterior is technically clad in redwood siding, but in reality it's mostly a vast bank of windows. The interior is largely wall-free, making the property—which is situated on a wooded one-acre lot—one vast, open space.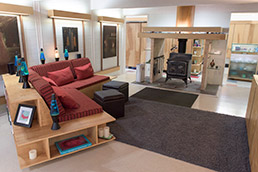 K.C. Cohen built most of the cabinetry and furniture using two-sided birch plywood in the quirky home he shares with his wife, Faith. The couple refers to the sprawling entryway/living room/screened porch area as the home's "lobby." (IBJ photo/Eric Learned)
It got a lot vaster after Cohen and Co. moved in. The original floor plan was about 1,800 square feet. Today, it covers 3,800.
The home's former garage has been turned into two bedrooms and a media room. Oddly, its concrete floor slopes precipitously toward the house, which means furniture can't sit on it without leaning or tipping. Cohen worked around the problem by constructing wall-mounted wardrobes and cabinetry units suspended several inches above the floor. All are custom-made from two-sided birch plywood.
"It's a dirt-cheap material with a great finish," Cohen said.
He equipped the rest of the house with similar storage units, all of which he built himself (along with the lighting fixtures and much of the furniture) in the home's new two-car garage. He also laid the vinyl tile that covers most of the floors.
Cohen's penchant for cabinetry reached its peak in the kitchen, where an entire wall is given over to pot, pan and equipment-concealing storage units. Since his wife is only 5 feet tall, none of the units are higher than 5-1/2 feet.
"I basically built this around the 20 years I've spent watching her work in the kitchen," Cohen said.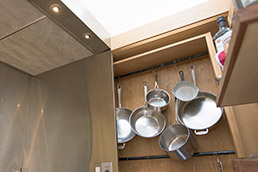 K.C. Cohen designed cabinetry for the kitchen to conceal pots, pans and other equipment.And because his wife is only 5 feet tall, none of the units are higher than 5-1/2 feet. (IBJ photo/Eric Learned)
The food-prep zone adjoins the sprawling entryway/living room/screened porch area that the owners refer to as the "lobby." It's no surprise that it's hosted its share of social events, including a recent soiree in which it comfortably held both a band and some 70 guests.
"It's a great house for entertaining," Cohen said.
It's somewhat less great when it comes to energy conservation, however. Having a place with so many windows is fun when it's warm, but becomes highly problematic in winter. Which explains why the lobby's mid-century modern vibe is disrupted by the presence of a large, old-timey-looking wood stove. It looks out of place, but it's necessary to keep things livable during the cold months.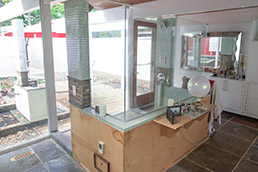 The home's master bedroom has two glass walls and an open-air bathroom that is separated from the outside only by glass. (IBJ photo/Eric Learned)
"This bad boy is our friend from November to sometime in March," Cohen said. "We'll go through a pickup load of wood every 10 days."
Mostly because there's room for very little insulation in the home's walls. Still, it's a vast improvement over the original design, which used poorly fitted plate glass windows.
"In the winter, you had to wait until those things froze over before the wind stopped blowing through," Cohen said.
The home's centerpiece is the couple's master suite, which features glass walls on two sides. For privacy, Cohen constructed substantial exterior screens on both sides of the house. The suite centers on a large open shower that sits more or less in the center of the space.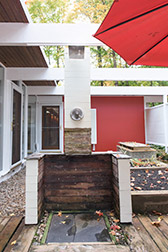 Outside screens provide privacy, especially when the owners use the outdoor shower. (IBJ photo/Eric Learned)
"My lifelong dream was to have a shower that didn't have a door or curtain," Cohen said.
Not that it's the final word in open-air hygiene. During the warm (and warmish) months, he uses a fully equipped outdoor shower inside the screened area at the back of the house.
"From April until the first time it freezes, I'll go out there, even if it's into the low 40s," he said. "As long as the wind's not blowing, it's fine."
In case they need to accommodate less open-minded guests, sliding wood panels can be deployed to increase privacy. Or they can stay in the remodeled 1973 Airstream trailer parked just outside. Cohen tricked it out himself, turning it into what he describes as a luxury hotel room, complete with bed, refrigerator, a 42-inch TV, remote control window shades and a "kick ass stereo."
"It's our basement, our man cave, our guest house," he said.•
Please enable JavaScript to view this content.