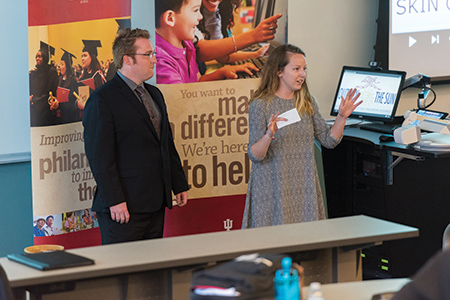 The Indiana University Lilly Family School of Philanthropy is in the midst of practicing one of the skills it teaches—fundraising for a capital campaign—and school leaders admit the pressure is on to be successful.
The school has a goal of raising $50 million by the end of 2019 and has already collected $25 million since it started counting donations in April 2013. The campaign went public last fall when IU launched its university-wide $2.5 billion bicentennial campaign.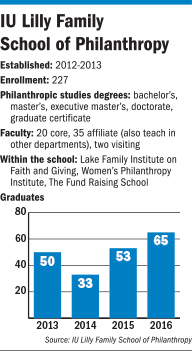 "A capital campaign is a key way for universities and schools to create a sense of urgency around their priorities—but also to articulate those priorities," said Amir Pasic, the Eugene R. Tempel dean of the School of Philanthropy.
The philanthropy school's priorities include investing in more scholarships for students, hiring more faculty, providing more financial support for research projects, and increasing its local partnerships to sponsor more events and bring prominent speakers to Indianapolis.
The campaign is the institution's first since transitioning from the Center for Philanthropy into the world's first school dedicated to philanthropic studies three years ago. The IU Board of Trustees approved the creation of the school in 2012, and it was inaugurated in 2013. It had opened as a philanthropy center in 1987.
Fundraising experts say the reputation the center earned should make the school's first capital campaign much easier.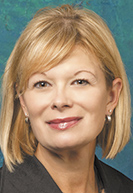 White
"It has a longer track record than if it were a brand-new school," said Angela White, senior consultant and CEO of Greenwood-based Johnson Grossnickle and Associates. "Their academic research is phenomenal. They're the go-to player."
Tim Winkler, CEO and founding partner of South Carolina-based fundraising consulting firm Winkler Group, said capital campaigns have become "vital" to higher education institutions because public funding is rarely enough to accomplish a school's goals.
Revenue for the IU philanthropy school is primarily provided through an endowment, tuition fees, grants and training fees from three programs: The Fund Raising School, Lake Family Institute on Faith and Giving and the Women's Philanthropy Institute.
Even though the school started counting donations for its campaign in 2013, the effort was kept private until IU announced its $2.5 billion initiative in September 2015.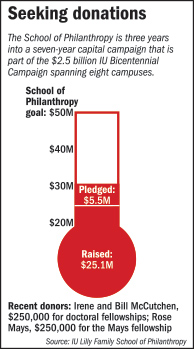 A silent period is common in large campaigns so that, when the public announcement is made, donations have already been received.
"They want to instill confidence," Winkler said. Schools want potential donors to know "they're not the first one to jump on board."
Just before starting the campaign, the Center for Philanthropy raised $60.9 million during a seven-year initiative referred to as IUPUI Impact, in which IUPUI raised $1.4 billion.
That campaign officially ended March 31, 2013, and the school jumped into the IU-wide bicentennial campaign the next day.
"We didn't take what used to be a customary break between campaigns," Pasic said. "For us, it made a lot of sense because we're a new school."
Doing back-to-back capital campaigns could lead to donor fatigue, but experts say it's good to stay on the minds of donors.
"It's pretty common for universities to be in perpetual campaign mode," Winkler said. "It's not going to hurt them."
White said if organizations take long breaks between campaigns, that opens the door for other organizations to collect from donors.
"There's a little bit of an art to the timing of it," White said. "I get more concerned when there's a bigger gap than a smaller timeframe."

Ann Boyd-Stewart, assistant dean of development and alumni relations for the philanthropy school, said the previous campaign focused on gathering enough donations to propel the center into becoming a school. Now, the focus is on growth—and so far leaders are happy with the campaign results.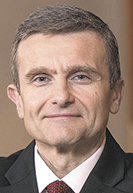 Pasic
In addition to the $25 million already donated, $5.5 million has been pledged, putting the school above the 50 percent mark.
"We're doing very well," Boyd-Stewart said. "What I love most is, we're starting to see a big rise in our alumni giving."
Pasic said the school hasn't typically relied heavily on its alumni base because most are working in the not-for-profit sector and not earning significant salaries.
"But they're giving back, and some of them are doing very well," he said.
The increase in alumni donations also means an increase in smaller donations. Some of the most recent gifts have been $25,000 or less.
"I see this campaign as, now we're a school. Now we're starting to focus on our alumni, and we have some incredibly notable alumni," Boyd-Stewart said. "We've never really talked a lot about how powerful this group is—and they are."
Many alumni are in leadership positions at national and regional not-for-profits, including the National Endowment for the Arts, the American Red Cross, the Christel DeHaan Family Foundation and the Ball Brothers Foundation.
Alumni have also founded their own not-for-profits, established philanthropy centers at other universities and colleges, and worked in prominent state and national government positions.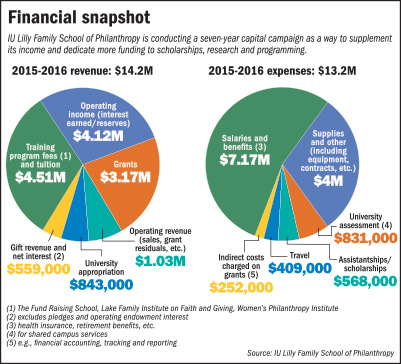 In May, the school's largest graduating class yet—65 students—received degrees, and more than 225 students are enrolled in the school's various degree and certificate programs.
The school is also relying on its board to donate and bring in donations. The 21-member board has individuals from across the state, nation and two with international ties.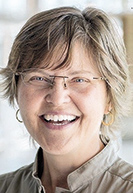 Boyd-Stewart
Pasic said he hopes to double the size of the board but continue to have a mix of representatives.
"We're always going to get a large slice [of donations] from the foundation world and the corporate world, but individuals we have to spend a lot more time on," Boyd-Stewart said. "That takes a little longer, but as you build your board, that's one way of bringing individuals to the table."
The school also expects its national and international reputation to help bring in dollars.
"I always say, 'The more money you bring from the outside to Indiana for Indiana, the better,'" Boyd-Stewart said.
For now, the school continues to be the only one of its kind.
But plans for similar schools in China and the United Kingdom are underway, and several other centers or departments exist. Still, IU leaders support the expansion.
"We take pride in that proliferation even though it concerns us a little bit that it creates competition," Pasic said. "But we celebrate it whenever new centers are created. There's still so much work to be done to help spread the word of philanthropy that, the more the merrier."•
Please enable JavaScript to view this content.