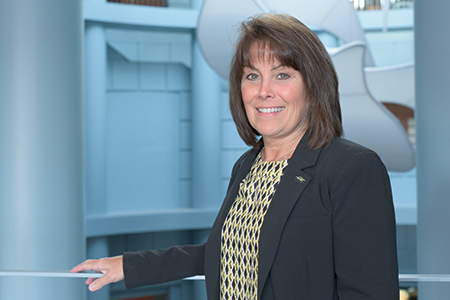 The first person to serve as chief nursing officer at the system level for St. Vincent —overseeing and unifying all 20 hospitals—Adams plays a critical role in an organization acknowledged as one of the 15 Top Health Systems in the country for 2015 and 2016 by Truven Health Analytics. 
Rising up: Born in Greenfield, Adams earned her bachelor's from Ball State University and both her master's and doctorate from Indiana University School of Nursing. A critical care nurse for 10 years and nurse practitioner/director for 15 for a range of hospitals, she's been chief nursing officer at St. Vincent since 2015.
Career turning point: Adams took the risky step of leaving critical care nursing for a grant-funded research position to allow her the flexibility of being home to see her son off to kindergarten. The risk paid off, allowing her to "obtain critical experiences that helped form the perspective I bring to the challenge of reshaping health care," she said.
Nursing misconceptions: Nursing is a very trusted profession, Adams noted, but added that what isn't fully understood is "the critical acumen and the skill and knowledge base that a nurse requires to practice safely and effectively." The high stress environment can also take its toll. A recent study concluded that 18 percent of nurses meet the clinical criteria for PTSD. "It's alarming. They normalize things like being hit by patients, family members screaming at them." Part of her job, she said, is making sure they are supported and nurtured in this difficult work.
Choosing boards: For Adams, who serves on the boards of the St. Vincent Anderson Regional Hospital, Indiana Center for Nursing, and Spotlight on Nursing, "first and foremost, it has to be something strongly aligned with my full-time job. … I didn't have the bandwidth to go off on different tangents." She's also a fellow of the American Heart Association and is co-chairwoman for its Go Red for Women 2017.
Mentors: Among them, St. Vincent cardiologist Dr. Mary "Minnow" Walsh ("a powerful role model in terms of how to serve as a relentless advocate for high-quality, team-based patient care" and "how to steer the course of decisions and change in the right direction without being distracted by self-interest") and Janet Bingle, former chief nursing officer for Community Health Network ("The first person who told me I might be a candidate for executive-level leadership, something I had never considered.")
Advice for young women in business: "Shape your career path the way that it serves you and your personal and professional priorities best. There is no one right way to do it. Don't limit your options by assuming you aren't yet qualified to pursue a new opportunity just because you haven't done it yet. … Don't be afraid to fail … and don't forget to discover what you learned about yourself when you do."
Please enable JavaScript to view this content.