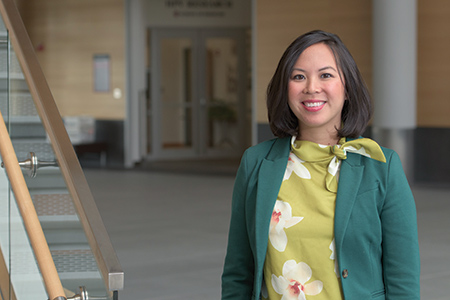 Dedicated to speeding up the discovery-to-implementation pipeline for life-changing medication, Adams partners researchers and health care systems while working toward reducing hospital stays and lowering costs. Through a key project, Great Lakes Practice Transformation Network—one of only 29 out of 2,500 proposals funded by the Centers for Medicare and Medicaid—she has already enrolled 15,500 clinicians.
Rising up: With an Indiana University bachelor's in public health and a master's in health care administration from IUPUI, Adams has worked with various hospitals and a stint as program manager for the Innovation and Implementation Science Initiative.
Sibling motivation: Adams' brother, Peter, was born with the umbilical cord wrapped around his neck, causing severe brain damage. "Although he has achieved milestones that clinicians did not believe he would ever be able to, he will still never be able to live a normal life and be on his own," Adams said. "My brother has taught me so much. … He is the drive behind my passion, and when work becomes hard, and life gets tough, I think about Peter and how tackling the challenges that I want to accomplish is the least that I can do for my brother."
Career turning point: "When I made the leap to join academia … I became an oddball in the environment in which I worked in, and am still an oddball today." Why make that jump? "I believe bridging the gap between academia and health care delivery by creating a shared agenda between these two disparate worlds is a key ingredient to truly transforming the health care system. … Americans deserve better health care."
What's the delay? Adams explained that, from discovery to delivery, it takes an average of 17 years for any new discovery to be implemented into routine care. And only 1 percent of discoveries are actually implemented.
Choosing boards: Adams' affiliations include Easter Seals ARC board candidate, American College of Healthcare Executives member and Indiana Healthcare Executive Network member. "I've been a lot smarter about it in the last two years since becoming a mom," she said. She is particularly excited about upcoming work with Easter Seals—kicking off in November—having worked for the organization while in college.
Advice for young women in business: "If you don't know what your passion is, identify it by embarking on a self-discovery journey to determine what is really important to you." Also, "Identify knowledge gaps between where you are, and where you want to be, and the skills you need to attain, and individuals you need to learn from to get you from current state to future state."
Please enable JavaScript to view this content.