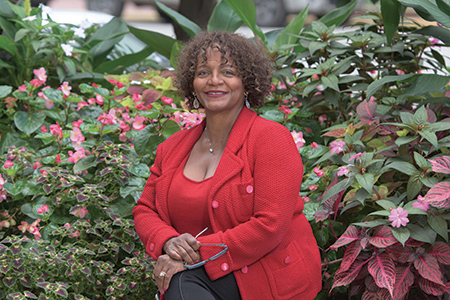 Overseeing the legal team at Cummins, Barner has nearly doubled the number of in-house attorneys and significantly reduced the number of outside firms. An activist on diversity issues, she helped earn Cummins an Employer of Choice Award from the Minority Corporate Counsel Association.
Rising up: Originally from Twinsburg, Ohio, Barner earned a pair of degrees from Syracuse University, in psychology and political science, as well as her law degree from the University of Michigan Law School. After serving as deputy undersecretary of commerce for intellectual property and deputy director of the U.S. Patent and Trademark Office in Washington, D.C., she worked with firms in Cleveland and Chicago—including becoming partner and chairwoman of the intellectual property department at Foley & Lardner LLP—before being wooed to Cummins.
Career turning point: After three years of law practice, Barner decided to be more "planful" about her career. "I left my legal practice in Cleveland and moved to Chicago. Later that year, I began work on my first intellectual property patent case and have been really fortunate to have a 25-year career that benefited from those two decisions."
The value of diversity: "You can't just put placards out there saying it's a core value," Barner said. "You have to incorporate that into how you do business and create an environment for your people. Cummins gets it. Diversity means better decisions for the company, bringing in people with different perspectives. Working through those perspectives gives you a better outcome." One of the reasons she came to Cummins was its "you can't just say it, you have to live it" mind-set.
On corporate citizenship: Barner believes corporations have a responsibility to be engaged in their communities. "One of the great things about Cummins is that we don't feel what goes on in the city and state is out of our control. You see us engaged in things like RFRA that we think will detract from our ability to attract talent."
Choosing boards: Barner serves on the boards of Walker Innovations Inc., Association of Corporate Counsel, and the Indiana Repertory Theatre as well as the board of trustees for Brebeuf Jesuit Preparatory School. "I've been incredibly fortunate," she said. "To those [whom] much is given, much is asked." Much of her charitable work is focused on "trying to make sure kids have an opportunity to look beyond their surroundings."
Mentor: "My mother was my most important mentor," Barner said. "I learned from her the value of hard work, integrity and passion for doing the right thing."
Advice for young women in business: "Be planful about your career. Plan to succeed and think about the actions you need to undertake to accomplish your success one, three and five years down the road."•
Please enable JavaScript to view this content.