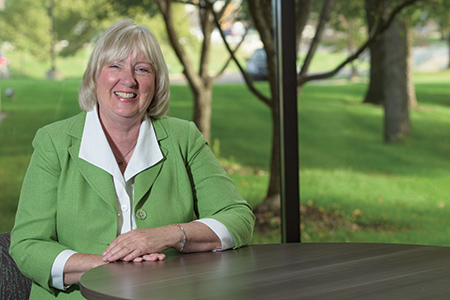 Leading for 20 years an agency providing protection for Marion County children who have been abused and/or neglected, Booth has grown the organization from eight employees to nearly 80 with a caseload closing in on 8,000. Her goal: a safe and permanent home for every child.
Rising up: Born in Indianapolis, Booth earned a bachelor's from Ball State University and a law degree from Robert H. McKinney School of Law at Indiana University before working as both an attorney and music teacher. She entered the not-for-profit sector first as staff attorney then as executive director for Child Advocates.
Career turning point: While sitting in the attorney's lounge at juvenile court, Booth found herself next to someone who worked at Child Advocates. "She told me that her agency was hiring," Booth recalled. "We had never discussed guardian ad litem work in law school so I was intrigued and wanted to use my law degree to help people. I chased after the job until I was hired."
Blunt realities: "Everything you can think of happens in Indianapolis," Booth said, "from heroin overdoses to shaken babies to burned children…There's the trauma of abuse and the trauma that we inflict on them for their safety by removing them from everything they know." Plus, there are lesser-known consequences. "Every time kids in foster care move, they will fall behind in school four months. A couple of placements don't work out, and you've lost a school year." She's also attuned to the impact such day-to-day work can have on her staff. "You have to worry about secondary trauma," she said, thankful that she has a "very supportive board that gives me the resources I need."
"Made it" moment: Comments on employee surveys, she said, "made me believe that I was on the right track."
Choosing boards: Booth created "An Evening with Child Advocates," an art and poetry contest celebrating the children her agency serves. She also is a volunteer with the Judges and Lawyers Assistance Program and Mutt Strut and serves on the Indiana Supreme Court Advisory Commission and the Urban CASA Leadership Council.
Changing attitudes: "I'd love," Booth said, "for everyone in law enforcement and child welfare to go through our Undoing Racism workshop. Everybody … white, black, Latino, Asian—it's doesn't matter." She would also like to find more volunteers. "You can make a huge difference in a child's life just by giving 6-8 hours a month. And we need more foster parents, people who take on that mission."
Mentor: "Every board president I've had over 20 years has taught me how to do my job better in some way."
Advice for young women in business: "Identify a mentor and talk to her about meeting regularly, even when there are no pressing issues," she said. "I have a group of not-for-profit leaders who run other organizations like mine and we meet at least once a year to mentor each other, benchmark our agency's developments, and motivate each other."•
Please enable JavaScript to view this content.