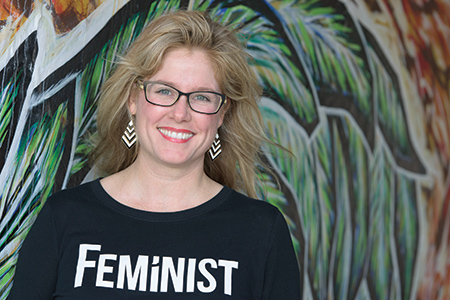 Wondering why there were so few women members—and even fewer business owners—at Launch Fishers, Cooper created free Startup Study Halls to provide community and camaraderie to help grow startups. Out of that grew The Startup Ladies. After more than 25 events, the organization is expanding to other markets.
Rising up: From Bethlehem, Pennsylvania, Cooper moved west to get her bachelor's in communications from Penn State before moving farther west to the University of California, Santa Barbara, where her titles included director of annual giving and director of development. She's been major gift officer for Butler University, director of operations for Riverview Hospital Foundation, and executive director of corporate partnerships and membership sales and events with Indy Chamber. In 2014, she ventured out into entrepreneurship.
Career turning point: After almost 20 years as a fundraiser, Cooper raised $80,000 and developed a wireframe for her own project called Friendtro. "Think Match.com for platonic friendships," she said. She pulled the plug before it launched, turning it into, in her words, "an enormously successful failure."
One executive, two companies: At Sticksnleaves, Cooper and her team help develop products for entrepreneurs and established companies. "Our focus is working on companies that will utilize tech," she said, "whether a tech platform or a tech-enabled company." She describes The Startup Ladies as a community movement designed to identify, educate, connect and increase investment in women entrepreneurs.
The "Shark Tank" effect(s): On the negative side: "For a couple of years, investors were a little mean-spirited, trying to act like the actors on that show. We did see that strange behavior for a short term." On the positive side: "More people are curious about entrepreneurship. More people are talking about ideas for businesses. And women are starting to think much bigger from the beginning."
"Made it" moment: In sixth grade. "I won the science fair with an invisible ink project."  
Choosing boards: A Purdue Foundry ambassador and advisory board member for Iron Yard, Cooper also serves on the leadership committee for the Indiana Conference for Women. "I choose board affiliations based on how I can contribute to the mission of the organization. Do I have either the connections or the skill set to help move the organization forward faster?"
Mentor: "My Aunt Sheri taught me the joys of connecting with other people, and connecting those people to other people. Yaw Aning and Anthony Smith taught me what I know about building custom technology and product development. Billie Dragoo has helped me to become a strong advocate and activist for women in business."
Advice for young women in business: "Support other people in the way you want them to support you. Elevate women whenever you have the opportunity."
Please enable JavaScript to view this content.