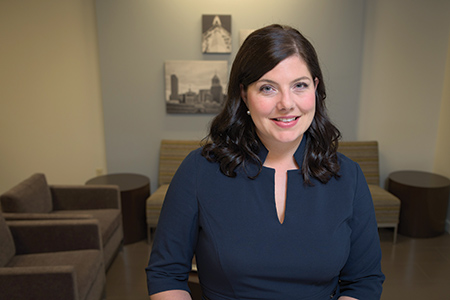 A leader in economic development through her work with Indy Partnership/Indy Chamber, Boone County Economic Development Corp. and the city of Indianapolis, Culp has 16 years of experience working with clients and on projects in 46 states.
Rising up: With a bachelor's in public policy with minors in political science and economics from Indiana University, Culp thought she'd be heading to law school—her father even encouraged her to take high school Latin for that very reason. Instead, she interned with the administration of Indianapolis Mayor Steve Goldsmith, landing a position in tax abatement, and her "accidental career" snowballed from there. It included an MBA in general management from IU while working at various public-sector jobs. Recruited by what is now Cushman & Wakefield, she led economic development efforts for various groups, including the aforementioned agencies. She joined Katz Sapper & Miller in 2015, where she has secured close to $400 million in economic incentives for 16 million-plus square feet of industrial and office space.
Career turning point: "Moving from the public sector into the private sector," she said, "was a biggie, and I really underestimated the differences. I was lucky to be surrounded by really talented people who I could observe and learn from … and lucky they had patience, because I had no idea what I was doing for a very long time."
"Made it" moment: Culp said that "making it" is about much more than a job title or resume. "To me, it is having a great career but also being a great mom, wife, sister, daughter and friend and finding time to be good to myself—to actually put myself back on my priority list."
Choosing boards: Culp serves on the boards of Employ Indy and Develop Indy. She also works with the Zionsville Community Development Corp. and the Zionsville Chamber's Government Affairs and Economic Development Committee and is a leader for her daughter's Brownie troop. A long list of past board involvement includes Indy Chamber, Indiana NAIOP Chapter, Indianapolis Symphony Orchestra, and Zionsville Boys and Girls Club. "Having kids enabled me to recognize that I can't be involved with everything," she said.
Mentors: "I have been lucky to have a series of mentors at different stages in my career," she said, including former Hendricks County Economic Development Director Harold Gutzwiller, ("an amazing sounding board"), Jay Archer and Charlie Podell (who taught her "to be over-prepared"), Pat Lindley (for his "strong faith and commitment to his family"), Jeff Henry ("using patience to arrive at a sound and often agreeable solution"), and Tim Cook ("the value of viewing each situation through the lens of every participant").
Advice for young women in business: "Don't be passive-aggressive, don't take things personally, and try not to hold a grudge. And help other women. Don't be threatened by them."
Please enable JavaScript to view this content.