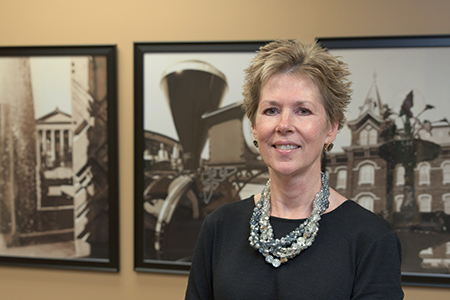 Overseeing a multi-faceted job that includes marketing, government and community relations, and managing Purdue's biennial budget request of over $300 million in annual operating funds, Griffith also is actively involved with the International Center of Indianapolis and other organizations.
Rising up: Born in Louisville but raised "on the sunny side of the river"—in Scottsburg, Griffith earned a bachelor's degree in political science from Ball State University before heading into government, working in the former Indiana Department of Commerce—now the Indiana Economic Development Corp. She worked in private industry (including Duke Energy and its predecessor companies) before joining Purdue. "I've always worked in large, complex organizations," Griffith said. "I'm not sure if that says something about me, but I enjoy that. You can learn so much by working in a large organization, especially in jobs I've had where you aren't just working in the silo but getting to know an organization inside and out."
Career turning point: "I accepted a job that I worked very hard to get, but was ill-suited for," Griffith recalled. "It didn't take me long to figure out that I should have gone with my gut, but I accepted the job, anyway. I stayed with it for about a year and gave it my best before resigning that position and moving on to the next opportunity. I learned a lot from that experience, but the most valuable thing I learned was what I was good at and enjoyed—and what I wasn't good at and didn't enjoy. And … always go with your gut."
Choosing boards: Griffith serves on the boards of the International Center; American Lung Association; Conexus; Connect2Help; Wabash Center; Greater Lafayette Commerce; Indiana Society of Washington, D.C.; Purdue Polytechnic High School; and the Dean's Advisory Council for Ball State University's College of Sciences & Humanities and Council of Advisors. How to decide what groups to say yes to? "The first thing I think about is, 'Do I have a passion for this?' … whatever this is. And I would never sign up for something if I couldn't give my time to it. The best boards are boards that are very diverse in terms of skill sets. If I have a particular skill set that I could plug in, that's something I give a lot of consideration to."    
Management style: "I don't like to say people work for me. I like to say I work with someone," she said. "But I'm not afraid to call balls and strikes. I don't shy away from that responsibility.
Advice for young women in business: "Believe in yourself and your abilities, but never believe that you have to stay on the path you're on or that others think you should be on. Take chances and be smart about your choices. There is reward in achieving, but you'll also find value in failing."
Please enable JavaScript to view this content.