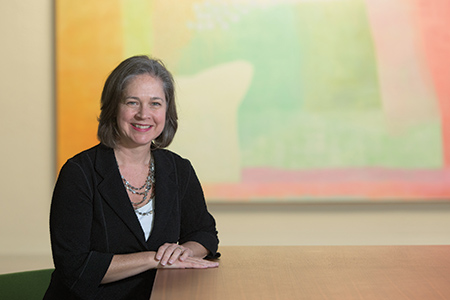 A national leader in the way congregations communicate, Jones brings a wealth of pastoral experience to CTS. "The church needs leaders trained in the best practices of compassionate care and the best practices of inspiration," she said. She sees CTS as "taking a big-tent approach to the theological world with an understanding of the importance of interfaith cooperation, respect and care."
Rising up: A Texas native, Jones graduated from Yale College and its Divinity School, working at soup kitchens in the South Bronx and Brooklyn in between. She served as pastor in Terre Haute, which led her to edit and publish Disciples World magazine, which, in turn, sparked the New Media Project, exploring effective use of communication for religious leaders and organizations. This and other projects became part of CTS in 2012 under Jones in her role as executive director of the Center for Pastoral Excellence. Not long after, she was named executive vice president.
Career turning point: In 2010, Disciples World magazine ceased publishing and Jones "felt the closure as a failure and was near my wits' end. But learning from that humbling experience, I began talking with officers of the Religion Division at Lilly Endowment about how communities of faith were struggling to understand the shift to digital communication patterns." A planning grant gave her time to create a research project investigating the impact the rapid shift to digital communication patterns and tools was having on congregations and communities of faith. That was the start of the New Media Project, which eventually moved to Christian Theological Seminary.
Choosing boards: Ordained by the Disciples of Christ in the United States and Canada, Jones is moderator for Central Christian Church, where she also served as a church elder. A trustee of Disciples Divinity House at the University of Chicago Divinity School, she has served on the boards of the Louisville Institute, the Religion News Service, and the Church Federation of Greater Indianapolis.
Mentors: Her two older sisters. "At six and seven years older than me, they both had a profound impact on my upbringing as well as my professional growth." Serene, president of Union Theological Seminary in New York, and Kindy, Oklahoma's assistant attorney general, "both taught me perseverance, hard work, compassion, and the importance of righting the inequalities that we create in our human societies."
Advice for young women in business: "Find a group of women colleagues to provide support to you and to whom you can also offer support and care. Operate above board in all that you do. Understand finances better than others in the room understand it. But also, always be willing to learn and don't be defensive about things you don't know or mistakes you may have made."
Please enable JavaScript to view this content.