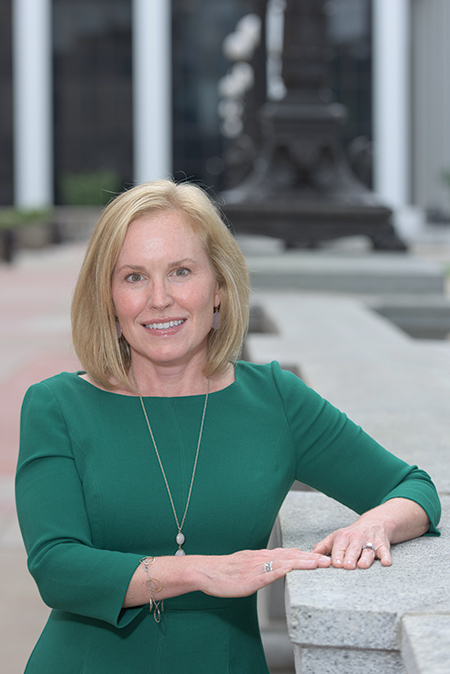 A champion for alternative scheduling to attract, retain and develop workers, Judge-Prein focuses on regulatory and strategic aspects of the development of pharmaceuticals, medical devices and diagnostics.
Rising up: Born in Canton, Ohio, Judge-Prein earned a bachelor's from Denison University and her law degree from the University of Michigan. A federal judge clerkship with Judge Sarah Evans Barker led to work at Barnes & Thornburg, then Eli Lilly and Co., before she moved to Faegre Baker Daniels to help grow its FDA practice. "I definitely have an entrepreneurial streak and am proud of having been part of building a thriving practice group. At the law firm, I am lucky to get to continue to build upon the important work with Lilly and also serve as a resource for others."
Career turning point: "My mother was born with spina bifida. Many of my formative life experiences involved some aspect of her struggles. My first job was for the pharmacist at the town drugstore—working with customers as they picked up prescriptions: seeing and helping with their reactions to costs, benefits and risks of their medicines. So the opportunity to work at Lilly around the legal and ethical aspects of product development was especially meaningful."
"Made it" moment: After Judge-Prein finished a talk in San Francisco, her 11-year-old son, who was along for the trip, got in line to ask her a question. When he got to the front of the line, he asked, "Why did you not tell me you were famous?" Recalled Judge-Prein: "It has always stuck with me how this looked from his point of view, and that I am lucky to do something that is relevant and to get to go out and engage with people in a meaningful way."
Changing the rules: As young lawyers, Judge-Prein and her husband took advantage of reduced-hour arrangements. "I remember one senior lawyer asking me why my husband and I would both want to flush our careers down the toilet," she recalled. "To me, it just made sense that a great lawyer could still be a great lawyer, whether working 60-hour weeks or 50-hour weeks or 40-hour weeks." She said too many lawyers with great potential are walking away from practicing law because not enough firms are willing to offer the flexibility employees might seek.
Board and other affiliations: Judge-Prein got in early with Summer Stock Stage, a seasonal theater program, thanks to her daughter's involvement, and helped it grow from a founder's organization to something self-sustaining. "My term as president of the board just ended, and I am delighted to think of Summer Stock Stage carrying on and providing a meaningful arts experience for years to come," she said.
Mentor: "Judge [Sarah Evans] Barker was—and is—a trailblazer who succeeded in the law weaving her special talents, her sense of humor, and her individuality. I learned a great deal by just being able to watch how she did it all." 
Advice for young women in business: "Find and take opportunities to work for great people. Even if the entry-level work is not exactly what you are looking for, you will benefit immensely from working for great people." Plus, she said, "Do top-notch work wherever you are, work hard, be a good person, and you will stand out. The world has become a really small place—know that the choices you make and the work you do will follow you, and conduct yourself accordingly."
Please enable JavaScript to view this content.