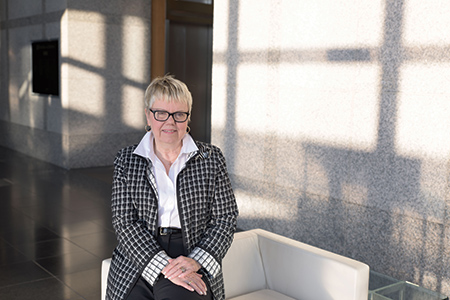 A champion fundraiser for the American Red Cross, Merkel founded its Indiana Tiffany Circle, growing it from two members to 24, who collectively contribute $240,000 annually. By day, she manages investments for about 400 clients at Wells Fargo, where she's worked for 40 years.
Rising up: Indiana University-educated—with a degree in finance—Merkel worked as a buyer for Wm. H Block Co. department store and for Indiana National Bank before joining Wells Fargo. In 2012, she received the company's Spirit Award, the highest honor an employee can receive. "It was the most important thing that ever happened to me besides finding my husband. And it was a complete secret. Everyone at Wells Fargo knew about it but me. I had no clue until I looked at the Jumbotron at the stadium in Miami."
Career turning point: "Meeting Alex Carroll at IU and having him as my mentor for 40 years." Carroll was a guest lecturer and, in Merkel's words, "a big cheese at the Chamber and on pretty much every board in town." She decided that "this is how I want to live my life—giving back to the community."
Managing other people's money: "We help people save more, spend less, and not do something stupid," she said of her part in managing money for clients, most of whom have at least $500,000 in investable assets. "Financial planning has gotten very complicated," she said. "I was an old stock jockey. But it's actually a lot more fun now. You can really help clients make good decisions and change people's lives." Much of the business comes from referrals. "You don't want to turn away someone who is a good friend of another client. If it's a good fit and meets our criteria, we like to keep them. … We keep the people who are fun. Seriously. That's a criterion. We don't have to do business with people who are jerks."
Choosing boards: Merkel, who once served on 13 boards before realizing she was "a little stretched," said, "Some organizations you just can't fix no matter how long you work—either the governance is flawed or the board is unengaged or the mission isn't lined up right. You need to spend time on the ones where you can make the most difference." The short (for her) list now includes serving as chairwoman of the Tiffany Circle and former chairwoman of its national council, as a board member of the American Red Cross of Greater Indianapolis (where she has volunteered for more than 20 years), as an elder and choir member at Second Presbyterian Church, and as a trustee for Louisville Presbyterian Seminary. In 2015, she was named outstanding volunteer fundraiser for her work with the American Red Cross.
Mentor: William Enright, senior pastor emeritus at Second Presbyterian, who "encouraged me to take risks with my volunteer work that changed my life in extraordinary ways."
Advice for young women in business: "Work harder than your peers and never stop learning."
Please enable JavaScript to view this content.