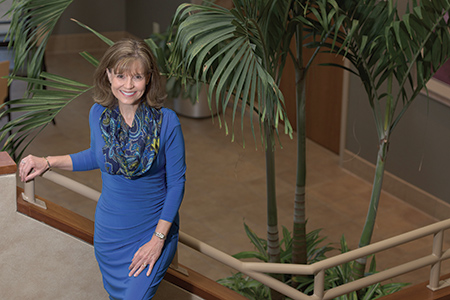 A Governor's Distinguished Service Award recipient, Murphy joined Community Health Network in 2010, where she helped shape HIP 2.0, the expansion of the state's Healthy Indiana Plan. Her latest projects include the Neuro-Diagnostic Institute being built adjacent to Community Hospital East, which will provide state-of-the-art services for a range of behavioral health issues.
Rising up: A Richmond native with a bachelor's in English and Spanish and a law degree from Maurer School of Law at Indiana University in Bloomington, Murphy won hundreds of cases against health code violators for the Marion County Health Department. She was appointed deputy secretary and chief of staff—and, later, to the cabinet-level position of secretary—for the Indiana Family and Social Services Administration before lending her expertise to Community Health Network.
Career turning point: As the supervising code enforcement attorney for the Health and Hospital Corporation of Marion County, Murphy said, she "learned how important it was to the health and safety of neighborhood residents to make sure that unsafe properties were fixed, food safety was enforced in restaurants and groceries, and hazardous materials were properly disposed of."
"Made it" moment: "I was honored when Gov. Daniels asked me to be the FSSA secretary and a member of his cabinet. During the recession, higher numbers of Hoosiers were in need of services, and I led the redesign of the eligibility system to ensure that Hoosiers could gain access to Medicaid, SNAP and TANF benefits."
Choosing boards: Serving on the Jane Pauley Community Health Center Board, Goodwill's Nurse-Family Partnership Community Advisory Board, and the Ivy Tech Corporate College Board, as well as the Indiana Hospital Association Government Relations Council, the Indiana Chamber of Commerce Healthcare Committee, and the Indiana Chamber of Commerce Government Relations Committee, Murphy had to pass on a few boards she would have liked to join. "Because of what I do on a daily basis here, working on population health policies, I look for boards that are in some way connected to that. They offer an element, maybe, of what Community Health Network can't provide."
Mentor: George B. Hoffman Jr., a longtime judge on the Indiana Court of Appeals who died in 2009. "I started my career as a law clerk for Judge Hoffman. He was honest, hardworking and humble. He understood the importance of integrity. He treated each case as if it were his first."
Advice for young women in business: "Always find time to embrace your family—they will support and love you all of your life," said Murphy, adding that she encourages all people to get involved more directly in health care. "Talk to your providers. Talk to your legislators. Tell them what you are seeing in your community and what you would like to see improved.
Please enable JavaScript to view this content.