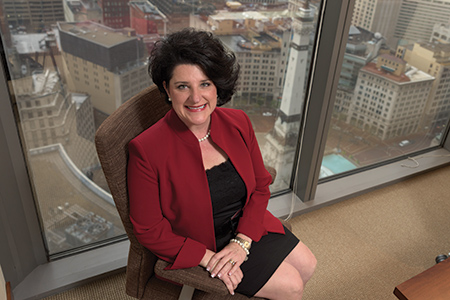 The former chairwoman of the Marion County Republican Party is a principal at one of the leading public affairs firms in the state, specializing in legislative and executive branch lobbying, and political consulting.
Rising up: Armed with a bachelor's in history from Purdue University, Indianapolis native Ping took a series of sales jobs before finding her niche as a principal first with Tabbert Hahn Ping Global Strategies and then at Bose.
Career turning point: In 2006, Ping ran for Marion County auditor. Projected to lose, she ran, anyway … and came close. "Losing was the best thing that could have happened," she said. "I was given the opportunity to speak with neighborhood groups, churches and average voters in a way that one cannot by just volunteering for someone else's campaign. Losing with grace gave me the opportunity to run for vice chairwoman of the political party and help recruit Greg Ballard for mayor the following year."
Choosing boards: Ping's list of civic duties includes serving on the boards of the Greater Indianapolis Republican Women's Club and the Government Affairs Committee for the National Association of Women Business Owners Indianapolis Chapter (also co-chairwoman). A mentor and board member for the Richard G. Lugar Excellence in Public Service Series, she's vice chairwoman of the Marion County Republican Party and vice chairwoman of the 7th Indiana Congressional District for the Indiana State Republican Party. She also serves on the alumni board for Purdue University College of Liberal Arts and the board of the Community Health Network Foundation. "I look at each one as an opportunity to give back," she said.
Getting clients involved. She offers clients guidance on the best way to serve on boards and provide sponsorship for not-for-profits. "Companies can get lost in having 1,000 tables everywhere," she said. "It may work for some, but for others it's better to be the top sponsor at one or a few."
Message to voters: "The best way to change anything is to get involved. … I talk quite a bit with women of all ages who are intrigued with politics. It's really not as dirty as some national news programs make it sound."
Mentor: Her late great-aunt, Jaine. She was very active in politics in Illinois in the 1960s and served as the highest appointed female for the governor at one point. She encouraged my involvement in politics but warned that, to be taken seriously as a female, I needed to learn to hold my alcohol as well as the boys and to play golf as well as the boys. …I miss her, especially during this election year."
Advice for young women in business: "Show up, work hard and help others to achieve their goals and you will reach yours, too. Do not be so quick to 'be someone.' Your career ladder is yours and yours alone. Your great work will receive great rewards." 
And the possibility of another run for office? "I don't see that on the near horizon but I always keep my options open. I believe the right offer and the right person find each other at the right opportunity."
Please enable JavaScript to view this content.