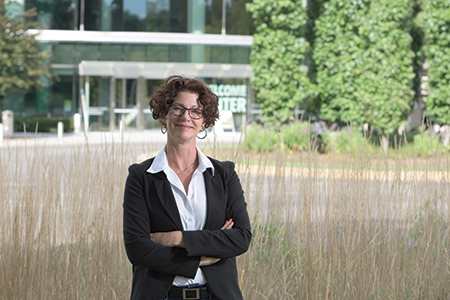 The designer of the Indianapolis Cultural Trail's poetic bus shelters, Sink now is shaping the way people experience the IMA. "I think of myself as a liaison between the facilities people and the departments that interact with the public," she said. "It's often said that an architect is like the conductor of the orchestra—I'm making sure all the people are doing their parts at the right time."
Rising up: With a bachelor's (University of Arizona) and a master's (Cranbrook Academy of Art) in architecture, Sink worked for firms in Tucson, Arizona; Chicago; Portland, Oregon; and Philadelphia before finding her way to Indy. Her first IMA project was serving as architect of record for Chop Stick, the carved-from-a-single-tree refreshment and swing-set creation in the IMA's 100 Acres Art & Nature Park. Soon, the museum realized it could use her full time.
Career turning point: When Michael Bricker asked Sink to join the People for Urban Progress board, she was already busy with work, teaching and raising a child. "But," she said, "I realized that there were meaningful, grass-roots changes happening in Indy, an excitement about defining our own identity as a creative city and making Indy a better place." To "walk the talk," she realized she had to commit to not just living here but also being actively involved in making it better.
"Made it" moment: Being invited to join the AIA Indy Board Executive Committee. "I realized that, even though I didn't grow up here or attend Ball State, the bus shelter project had been noticed, and I had been active enough volunteering and going to events to be recognized within the architecture community."
 Looking ahead: The IMA is embarking on a 20-year master plan and, she said, "we are considering how IMA can use our significant assets to be a destination for all kinds of community culture." While she's excited about the plan, she's no yes-woman. "I am not thrilled with the fact that the grounds now require admission," she said, "especially with good friends in the biking community. It makes me sad that the grounds have become less of a casual gathering place. But I understand that what we give to the community is worth paying for." She adds: "How do we see ourselves in 15 years? It's all up for grabs at this point."
Choosing boards: While serving on the executive board of the American Institute of Architects, Indianapolis Section (where she was president in 2016), Sink also lends her talents to People for Urban Progress.
Advice for young women in business: "Spend a lot of time really listening to others, but if you know the answer, then you must be brave and shout it out!" she said. "I find I have to sometimes flat-out interrupt contractors who are arguing about how best to resolve a detail on site. If I've already answered the question in my drawings, but they have overlooked it, I have to fight my natural tendency to wait my turn to speak—it saves everyone a lot of time if I go ahead and interrupt. But then, even if you can, don't gloat in the 'I-told-you-so' moment; keep working as a team toward the best results."
Please enable JavaScript to view this content.