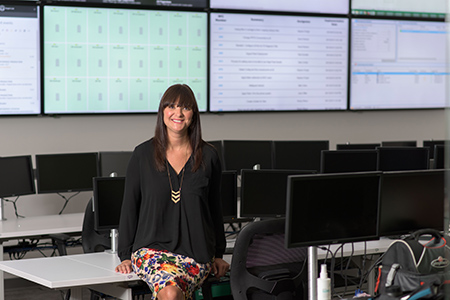 Able to evolve with an evolving company, Towns helped shape Angie's List while extending her influence into the tech community on the TechPoint board. She was one of three executives chosen to present her company's turnaround strategy at Investor Day in March 2016 at NASDAQ. "All any of us do is solve problems," she said. "Being successful is getting good at solving problems."
Rising up: A journalist by training, with a degree from Indiana University, Towns edited Indy's Child magazine and was a writer for the North American Retail Hardware Association. Angie's List Magazine needed a writer and that proved her entry into the company, where she shifted to marketing to drive traffic to the website. "Essentially, I built a product team within marketing to execute our strategy—hired developers, a designer, a product manager." Its success led to scaling up the model for more than just search marketing. And that led to Towns' being named senior vice president of product.
Career turning point: In 2009, SEO was all the rage in digital marketing, and Angie's List wanted a piece of it. "I had a vague notion of what SEO meant but zero experience with it," said Towns. "I put on my journalism hat, cold-called SEO experts and did a bunch of research." After several interviews, attending a couple of conferences and reading enough blog posts, she said she had enough information that she "built a strategy, recognized that this was going to take time, and we just started chipping away at it." After about a year, the traffic started to come. "When [my analyst] started giving me the reports before I asked for them, I knew we were onto something. These pages continue to be one of the biggest traffic drivers to AngiesList.com."
Choosing boards: "A few years ago, I wouldn't have thought someone from Angie's List would be on the TechPoint board," said Towns, who joined in 2014. For the vast majority of its 21 years, she said, it was seen as a marketing company. "But everything we are doing is so dependent on technology and that has accelerated over the years." And while Angie's List has been transforming, so has TechPoint, she said, noting that it's changed from "an event company to a true catalyst for the tech industry." She's also on the boards of the Indianapolis Zoo and United Way of Central Indiana.
Mentors: Former Angie's List CEO Bill Oesterle and company Chief Operating Officer Mark Howell. Oesterle "taught me to be fearless and pushed me outside of my comfort zone so many times that I forget what being comfortable feels like." From Howell, she learned "the value of talent, how to manage top talent, and—most important—the importance of getting involved in the community and making family a priority."
Advice for young women in business: "First, get really good at getting good information, and second, get comfortable making hard decisions. … As you get more and more responsibility, the level of information and abstract thought [that is] necessary increases, as does the difficulty of the decisions [that are] necessary. But both are relative, and getting better at both can begin at an entry-level position and continue throughout your career."
Please enable JavaScript to view this content.