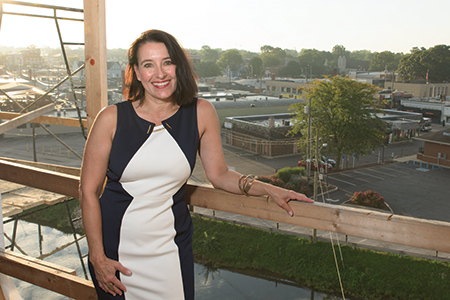 With a history of growing startups, assisting global companies, and even helping to build a small local business, Wethington was recently inducted into the Midwest Real Estate News Hall of Fame, thanks in part to more than 33.6 million square feet of property deals with an estimated $1.5 billion value.
Rising up: Originally from South Bend, Wethington earned a bachelor's from IUPUI, then a law degree from the Indiana University Robert H. McKinney School of Law. While attending law school, she helped her father open and establish a still-flourishing commercial office supply and office furniture business. After graduating, she spent time in private practice before finding her way into commercial real estate. There, she worked in economic development and transitioned into leasing and investment brokerage, most recently moving to the development side of the industry. "I feel fortunate to understand these different sides of the equation," she said, "and how important it is to understand the owner's perspective, the investor's perspective as well as the tenant/company's perspective."
Career turning point: "When I entered the commercial real estate industry, as it afforded me so many different career options and allowed me to leverage my 'highest and best uses.'" She said the approach she took transitioning to real estate included "objective listening" and "being fearless about asking questions and saying, 'I don't know what that means.'"
Outstanding achievement: Beyond her success in the workplace, Wethington said one of her greatest achievements was caring for her now-deceased husband during his fight with cancer. "It was a long three-year battle, which showed us both the intestinal fortitude we had, the power of love and support of family and friends, and the love we had for one another," she said."
Choosing boards: Before joining Browning in 2013, Wethington said, she had a "you eat what you kill" attitude. "Your time is precious and limited and, when you take it away from business, you take it away from earning potential." But she's come to see greater value in board and charitable involvement, focusing on causes important to her, including Indy Parks Foundation, where she chairs the advocacy committee. The parks system has been a favorite since she worked at Eagle Creek Park while in high school. "I scrubbed the bottoms of sailboats, rented canoes, and worked the marina. It wasn't glamorous, but it instilled a passion." Her pet project there is Indy Urban Acres, a public park/organic farm she calls an "eight-acre slice of heaven." She also serves on the advisory board and is co-chairwoman of the women's leadership initiative for the national Urban Land Institute.
Advice for young women in business: "Be tenacious but flexible. Always be professional in what you say and how you conduct yourself. … Don't be afraid to pursue the non-traditional jobs. And make sure every job is a learning opportunity on which to build and grow."
Please enable JavaScript to view this content.