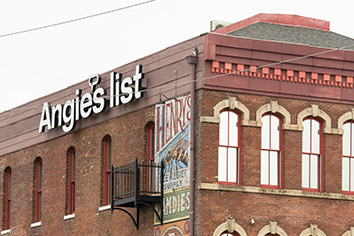 Indianapolis-based Angie's List Inc. saw its shares surge 10 percent in premarket trading Tuesday morning after the company said it had hired investment bankers "to explore strategic alternatives"—terminology companies often use before they sell themselves.
In an Angie's List press release announcing disappointing third-quarter results, CEO Scott Durchslag said: "We are continuing to see a robust impact from executing our turnaround plan and are extremely focused on opportunities to further accelerate our growth. To that end, we have decided to explore strategic alternatives to achieve the full potential of our new platform."
He said the company has hired Allen & Co. and Bank of America Merrill Lynch. "We believe this is the right step for the company at this time and look forward to pursuing a path to maximizing value creation for our shareholders," he said in the release.
The company disclosed the hirings of the investment banking firms at the bottom of a release disclosing financial results that fell way short of Wall Street expectations. The bright spot was a more than 400 percent surge in memberships following the company's adoption over the summer of a "freemium" business model that includes free access to its more than 10 million service provider reviews.
The home services marketplace generated $79.7 million in revenue in the quarter ended Sept. 30, down 8.3 percent from the $87.0 million it pulled in during the same quarter last year. Analysts had projected revenue of $82.0 million.
The company reported a loss of $16.8 million, or 28 cents a share, a swing from a profit of $82,000, or zero cents a share, in the same quarter a year ago. Analysts expected a loss of 14 cents a share.
The quarterly loss was the largest the company suffered since the second quarter of 2014. It now has reported five consecutive quarters of revenue declines.
The move to hire investment banking firms follows last month's departure of the two longest-serving Angie's List board members, John Chuang and Steven Kapner, both principals of the Boston-based marketing staffing firm Aquent. The men were widely viewed as obstacles to a sale. When Chuang was serving as board chairman last year, the company rejected a $512 million buyout offer from the parent company of HomeAdvisor, one of Angie's List's top rivals.
The departures reduced the board size from 12 to 10, increasing the clout of three directors representing New York-based activist investor Eric Semler, president of TCS Capital Management. Semler had pushed aggressively for Angie's List to sell last fall before reaching a settlement with the company this spring giving TCS three seats, one of which he holds.
Chuang's resignation left for the chairmanship vacant, and he was succeeded by one of the appointees of TCS, veteran media and internet executive Tom Evans.
Analyst Blake Harper of Loop Capital in Baltimore said the decision to hire investment bankers suggests Semler is capitalizing on his increased clout.
"Looks like Eric is getting his way with the board—new chairman, board size shrunk and now hired bankers," Harper said in an email.
In premarket trading Tuesday, Angie's List shares were fetching $8.45, up 10 percent from Monday's close.
Please enable JavaScript to view this content.