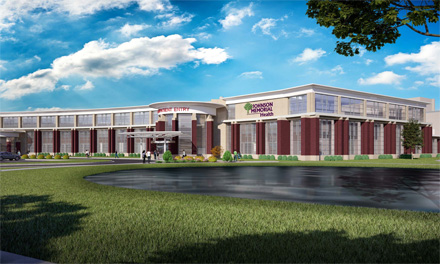 Johnson Memorial Hospital plans to spend $42 million to build a new emergency and outpatient building and a rehabilitation center on its main Franklin campus, the largest project in the hospital's history.
The project, announced Tuesday morning, will reshape the east side of the Johnson Memorial campus, with the new emergency and outpatient facility replacing the original 1947 hospital building. The original hospital building will be demolished next year. It currently houses administrative offices and other non-clinical offices.
The new rehabilitation center will be constructed on the undeveloped west end of the campus.
Construction on both bulldings is expected to begin in 2017 and be completed by 2020.
The move is the latest multimillion-dollar capital project announced in recent years by hospitals across central Indiana, as they face shrinking demand for inpatient beds and growing pressure from payers to lower cost. Johnson Memorial had inpatient occupancy of just 33.3 percent in 2013, one of the lowest in the region. In 2011, it converted 25 patient rooms into offices for its billing staff.
The hospital said the project will help it face changing needs over the next decade. Johnson County is the state's third-fastest growing county.
Larry Heydon, president and CEO, said the goal is to increase outpatient visits by 30 percent over the next decade. About 23,000 patients a year now visit the emergency room, and thousands more use other outpatient services.
"This will strengthen our ability to remain independent," he said.
Johnson Memorial is the only full-service hospital in Johnson County. To the north, two large competitors, Franciscan Health Indianapolis and Community Hospital South, are within 15 miles.
The aging hospital building has become obsolete, Heydon said. "It is very difficult to economically heat, cool and maintain a 70-year-old building," he said.
The project will include a new 17,400 square foot emergency department with a new ambulance drive and bay, to be located on the southeast side of the campus. More than 33,000 square feet of space will house radiology, laboratory and other outpatient services on the ground level of the new building. A wellness suite and other services will be located on the second level of the new addition, with room for future expansion.
The hospital said no local or county tax dollars will be used to fund the project. It plans to use cash on hand and might issue "a small amount" of debt, Heydon said.
Indianapolis-based Cripe Architects Engineers will oversee design and engineering.
In addition to its main campus in Franklin, Johnson Memorial operates the Greenwood Primary Care Center, the Whiteland Primary Care Center and the Franklin Primary Care Center.
Please enable JavaScript to view this content.