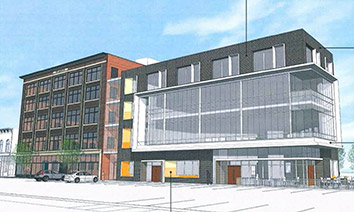 The Kitchen, a Colorado-based restaurant group, announced Tuesday that the company will open its first modern American bistro, in Indianapolis on Massachusetts Avenue.
The group has signed a lease to occupy 5,500 square feet on the ground floor of The Marietta office building under construction next to the Marott Center at 342 Massachusetts Ave. Indianapolis-based Gershman Partners is developing the four-story, 30,000-square-foot addition to the Marott.
The yet-to-be-named restaurant is expected to open in late spring or early summer of next year.
"Downtown Indianapolis is in a renaissance, and we see a growing culinary scene driven by creative local restaurateurs," said Don Degnan, president of The Kitchen, in a prepared statement. "We're thrilled to be part of that energy and excitement."
The restaurant and bar will serve fresh, seasonal food sourced from American farmers, Degnan said, and will feature a "high-style" urban design. The space will offer a private dining room for business lunches and events, and a 1,000-square-foot outdoor patio.
The Kitchen was co-founded by Hugo Matheson and Kimbal Musk, younger brother to high-tech entrepreneur Elon Musk.
They opened the first Kitchen in 2004, in Boulder, Colorado, followed by others in Denver and Fort Collins, in addition to one in Chicago. Three more are planned for Memphis.
The two also founded The Kitchen Community, a Colorado-based not-for-profit organization that plants gardens at schools. It expanded to Indianapolis in August.
 
Please enable JavaScript to view this content.