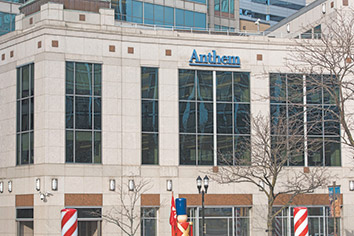 Health insurer Anthem Inc. said the number of people it covers climbed more than 3 percent in the third quarter, driving up revenue, but higher medical claims helped push profit down nearly 6 percent.
The Indianapolis-based company, which operates Blue Cross Blue Shield plans in more than a dozen states, on Wednesday morning reported profit of $617.8 million, or $2.30 a share, down from $654.8 million in the same quarter of 2015.
The results included net negative adjustment items of 15 cents a share. Excluding the items, net income was $2.45 a share, a decrease of 10.3 percent.
Analysts had been expecting $2.47 a share, according to a poll by Thomson Reuters.
Anthem said its largest expense, medical claims paid, climbed more than 9 percent in the quarter, to $16.92 billion. Operating revenue, which excludes investment gains, rose 7 percent, to $21.12 billion
The company did not mention any new developments in its proposed purchase of rival insurer Cigna Corp. for $54 billion. The Department of Justice has sued to stop that merger, saying it would hurt consumers.
The number of people covered was about 39.9 million as of Sept. 30, an increase of about 1.2 million people, or 3.1 percent.
The benefit expense ratio, which measures the amount of each revenue dollar that pays for benefits, increased to 85.5 percent, up from 83.6 percent.
Overhead costs, as measured by sales, general and administrative expenses, fell from 15.6 percent to 14.8 percent. That was driven by lower administrative costs resulting from efficiencies and higher operating revenue, the company said.
The also said Wednesday it now expects 2016 adjusted earnings to total about $10.80 per share. In July, Anthem predicted adjusted earnings would surpass that amount.
Analysts expect, on average, adjusted earnings of $10.85 per share, according to FactSet.
Anthem runs Blue Cross Blue Shield plans in several states, including big markets like California, New York and Ohio. It's trying to get bigger by pursuing a $48-billion acquisition of rival Cigna Corp., but federal regulators sued this summer to block that deal. Anthem is fighting the litigation.
The company's stock slid 64 cents, to $116.78 per share, in premarket trading, but jumped 4 percent, to $122.57, in mid-morning trading.
After topping $170 and setting several all-time high prices last year, Anthem shares were down about 16 percent so far in 2016 heading into Wednesday's trading. The Standard & Poor's 500 index, in contrast, has climbed about 3 percent.
Please enable JavaScript to view this content.