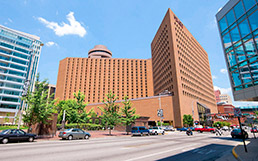 Visit Indy expects to have booked nearly 800,000 hotel rooms in 2016. (Photo courtesy of Visit Indy)
Visit Indy isn't going to set a record this year for the number of hotel rooms booked into the future like it did in 2014 and 2015. But the local hotel business is doing just fine, said Visit Indy CEO Leonard Hoops.
"By the end of the year, we think we'll book near 800,000 hotel room nights," Hoops told the city's Capital Improvement Board at its October meeting. "It won't be a record like it was the last two years, but it will be over our goal of 775,000."
Hoops told CIB members that, after two record years, it's not uncommon for the number of booked hotel rooms to fall a bit.
"There are limits to everything, but we're confident next year will be a strong year," he said.
Visit Indy booked 904,717 hotel room-nights last year, beating the 2014 record of 880,552 room nights by 3 percent.
Conventions and corporate meetings are often booked years in advance, so the 2015 bookings count rooms for conventions and corporate meetings scheduled through 2027, but the vast majority of them will be used from 2016 through 2020.
Downtown hotel occupancy through September was 76 percent, Hoops told CIB. For the same period, occupancy for hotels outside downtown was 65 percent.
"When you look at the entirety of Marion County, we're pushing 70 percent occupancy year-to-date," Hoops said. "Seventy percent is that magic number. When you get to that level of occupancy, that's when hotel developers start to sniff around. So it's not surprising that we have hotel developers looking at this market."
With the FFA convention wrapping up its four-day event Oct. 22 that drew 65,000 to the city and the Performance Racing Industry Show expected to grow this year to about 60,000 and the Bands of America Grand Nationals expected to draw 40,000 over four days this month, Hoops said hotel occupancy could increase before the year is up.
"We know one thing," Hoops said. "It's going to be a busy fourth quarter."•
Please enable JavaScript to view this content.