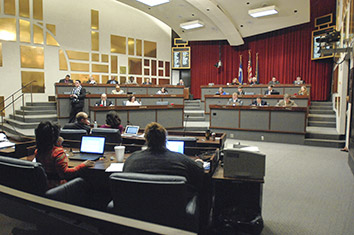 Two new Republican members will join the Indianapolis City-County Council to fill seats that soon will be vacated by councilors elected to serve in the Indiana General Assembly.
Aaron Freeman and Jack Sandlin won seats in the Indiana State Senate in last Tuesday's election, beating out Democrats Sara Wiley and Sean Gorman. Both have been on the council since 2010.
The two will remain councilors until Nov. 22, when they will be sworn in as state legislators. Mike McQuillen, the ranking Republican on the council, said he will call a caucus of Republican precinct committeemen to elect their successors between Dec. 2 and Dec. 22.
Filling these seats with Republicans won't change the makeup of the council, where Democrats hold a slim 13-12 majority.
Contenders to fill their seats already have come forward.
Danielle Coulter, 33, who is coming off an unsuccessful election in which she ran to be Marion County Treasurer, hopes to fill Freeman's seat in District 25 at the southeast corner of Marion County.
Coulter, who is a lobbyist and precinct committee member in Franklin Township, said she has been "urged to run" by fellow Republicans who "see that I have the passion to serve." She previously served as a legislative assistant in the Indiana House, where she worked closely with House members and their constituents.
She said through that experience she heard about issues of importance to Indianapolis residents. She said she has the time to devote to the council and would treat it like a "full-time job."
"I'm willing to get out there every day, work directly with the people and do all the grunt work to ensure that Franklin Township is a better and stronger community," Coulter said.
John Wesseler, 70, hopes to fill Sandlin's seat in District 24, directly to the west of District 25 in southern Marion County. Wesseler is a U.S. Army veteran who has had a long career in law enforcement and community corrections. He also has worked for the U.S. Marshal Service as a special deputy.
Wesseler recently started serving on Indianapolis' Police Complaint Review Board. He said he wanted to fill the council seat because he "wants to help my neighborhood."
"There's infrastructure concerns about the streets and roads and bridges down here," Wesseler said. "They are starting to show their wear. They need a bit of TLC."
Wesseler, a resident of Homecroft, said he also wants to "invite more businesses" and show people what the south side of Indianapolis has to offer.  
Please enable JavaScript to view this content.