For decades, a pharmacy degree from Purdue or Butler universities was essentially a golden ticket to a job with a starting salary north of $100,000. Kids fresh out of school even dictated terms to employers.

"Ten years ago, a student could almost take a finger and point to a map and tell, say, Walgreens, 'I want a job here,'" said Craig K. Svensson, dean of the College of Pharmacy at Purdue University. "And they could get it. Well, it's not as easy as that anymore."

And it could get worse. National surveys indicate the market for pharmacy grads is tightening, pushing the supply of pharmacists ahead of the number of jobs available in some regions of the country, including the Northeast. The outlook is a little brighter in Indiana, which essentially has job/candidate parity, according to the Pharmacy Workforce Center Inc.'s aggregate demand index.

The market shift is an unwelcome turn of events for the thousands of students who graduate from pharmacy programs each year, often borrowing big in a bet they'll soon be collecting robust salaries. The average pharmacy student borrows $130,000, according to a 2013 survey of graduates by the American Association of Colleges of Pharmacy.

"Nationally, the need for pharmacists isn't as high as it used to be," said Keith D. Marciniak, senior director of student and new-practitioner development for the American Pharmacists Association. "That's based not just on new schools, but also the expansion of existing programs."

The good times started rolling in the '90s, when a nationwide vacancy of some 6,000 pharmacists triggered fears of a shortage. Indeed, by 2001 the Pharmacy Manpower Project was predicting a shortfall of 157,000 by 2020. In response, the ranks of U.S. pharmacy schools increased from 82 in 2000 to 137, dispensing 13,994 newly minted pill packers in 2014-2015 alone.

In Indiana, however, this influx of new grads into a tightening job market has yet to bite. Or at least, bite hard.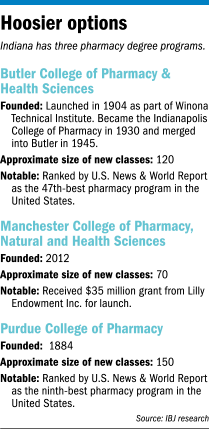 Differing circumstances

The state's three pharmacy programs all face the problem from different perspectives. Purdue University, which takes in about 150 students annually, offers a very large, very old program that's regularly listed among the nation's top 10.

Butler University's is a bit smaller, with about 120 new students annually, but also well-established. The other program, at Manchester University, started four years ago and has a class size of about 70. It's trying to establish itself just as the market for pharmacists goes south.

Purdue's Svensson, for his part, said all this talk about a soft market for pharmacy students is overblown. In his view, the situation has simply moved from being fantastic to merely good.

"I think what we're seeing now is a leveling of the market," he said. "Some people are interpreting that as an oversupply of pharmacists, but the data doesn't support that."

Nor, to date, does the job placement rate for Purdue grads. Svensson said 98 percent of this year's graduating class is either working or pursuing post-graduate training. However, he sees the writing on the wall, thanks not just to the influx of new schools, but also to trends like the decline of 24-hour pharmacies nationwide.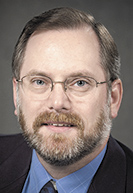 Svensson
Another factor: Retirement-age baby boomer pharmacists have stayed in the workforce longer than expected.

Though he can't predict how things will shake out, Svensson is fairly sanguine about Purdue's position, given its stature in academia.

"The comparison I make is that MBAs may be a dime a dozen, but the kids from Wharton never have any problems getting jobs," he said.

Starting from scratch

The situation is somewhat different for Manchester University's still-wet-behind-the-ears College of Pharmacy, Natural and Health Sciences, which graduated its first class last May.

Happily for the school, some 98 percent of its graduates either has found jobs or begun post-graduate training. That's important because the school needs to establish a track record of success to carve out a niche in a crowded field.

Manchester enjoys a huge advantage over other newcomers—a $35 million Lilly Endowment Inc. grant that allowed it to construct a $22 million building and covered everything from staff and faculty acquisition to office supplies. Before the grant, the school contemplated borrowing $12 million to get the ball rolling, and renting existing lab and classroom space.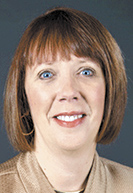 Rospond
Which gives a pretty solid idea of just how much it costs to open a pharmacy school.

"You're looking at $25 [million] to $35 million if you start from nothing," said Dr. Raylene M. Rospond, dean of Manchester's pharmacy program.

It also takes lots of time—in Manchester's case, almost a decade from preliminary planning to full accreditation, which the program finally received this summer, after graduating its first class.

But the work is far from done.

"Because we're so new, we don't have a reputation that comes from 100 years of existence," Rospond said. "Also, a lot of recruitment, networking and fundraising comes from alumni. The fact that we don't have any to call on means that we have to work particularly hard to get the word out."

The high cost of starting a pharmacy program means newcomers are unlikely to abandon the field, though some are reducing enrollment, said Marciniak, the American Pharmacists Association official.

'It's pretty healthy'

Butler University's program operates in a zone somewhere between Purdue's and Manchester's. Though not as celebrated as Purdue's, it's nevertheless a decades-old program enjoying a reputation and alumni base that a newcomer like Manchester would kill to have.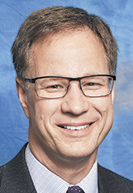 Soltis
Dr. Robert Soltis, dean of the College of Pharmacy and Health Sciences at Butler, agreed the new programs are likely here to stay, given the large sums already invested.

Even so, Soltis said, "The data I've seen is that Indiana is slightly favorable for our graduates. There's a few more jobs out there than there are pharmacists. Right now, it's pretty healthy."

He said students are aware of the tightening job market, and set expectations accordingly.

"They will find a job, it just may not be in the city that would be their first choice," Soltis said. "But if they're willing to move to other parts of the country or outside of big urban areas, there are still plenty of opportunities."

Butler pharmacy student Zach Huston, who graduates this spring, is a bit more wary about his field's prospects than he was when he began his studies six years ago.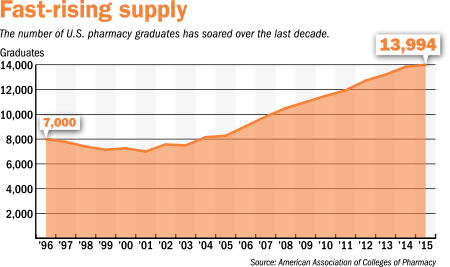 "Even though there's not necessarily a huge surplus of jobs, our profession isn't going anywhere," he said. "You can't say anymore that you want to work in a particular city and have your employer say, 'OK.' But I wouldn't say students are super-concerned. The majority of them will still have jobs when they graduate."

He said his fellow students are simply doing what kids in other fields of study always did—hustle for internships, then parlay them into full-time positions.

They definitely need to find steady work, because most have student loans to pay. Huston doesn't, but figures three quarters or more of his classmates do.

"That's a big concern for people when they graduate," he said. "If they took out $50,000 loans each year for six years, that's $300,000 they owe, without including interest. Even if you get a nice job, it's going to take a while to pay off."

For now, none of Indiana's pharmacy programs plans to take extraordinary measures to address marketplace changes. For example, they plan to keep class sizes as they are.

They are, however, working harder to help their students find "experiential" training—opportunities to sharpen their skills at places like hospitals, pharmacies and clinics.

"About a third of our training is experiential," Svensson said. "The growth of pharmacy schools has made it tougher to place students at quality sites. If you have a hospital, you can only take so many students."

However, he also cautions against projecting the softening pharmacy market trend too far into the future.

During his career in the field, he's found that trying to suss out employment trends in health care is a fool's errand.

"Predicting health care workforce needs is not a science," he said. "In the early '90s, the Pew Research Center said that we were going to have an abundance of pharmacists and that we should cut pharmacy school enrollments by 25 percent. And we ended up with a dramatic shortage instead."•