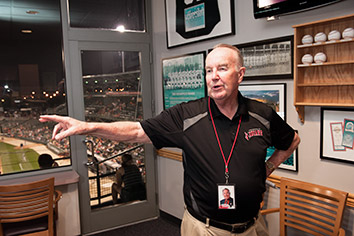 Local baseball legend Max Schumacher has stepped down as the chairman and president of the Indianapolis Indians, a position he has held since 1961, the ballclub anounced Thursday.
The 84-year-old started with the Indians as ticket manager in 1957. He now owns about 40 percent of the thinly traded public company.
The Triple-A affiliate of Major League Baseball's Pittsburgh Pirates, the club is promoting from within to fill its longtime leader's shoes. Bruce Schumacher, 56, Max's oldest son, has been named Indians chairman and CEO. Randy Lewandowski becomes president and general manager.
Max Schumacher will continue as chairman emeritus. In this role, Schumacher will maintain his position on the franchise's finance committee and serve as host in his suite during games. He will maintain his office at Victory Field and be available to provide mentorship for team officials, the team said in a press release Thursday.
"Randy and Bruce are very talented young men who have risen through Indians management ranks over the last several decades, with exceptional service, true to our culture and devotion to the community ownership," Max Schumacher said in an official statement. "They will lead Indians baseball through a stable future, building on the success our baseball team has achieved for many years."
The Indianapolis Indians have been profitable for 39 consecutive years, with annual profit often exceeding $1 million. Although the team's fiscal year hasn't yet wrapped up, the Indians figure to score another solid profit this year.
Bruce Schumacher previously served as vice president of corporate affairs. He joined the organization in 1983 as ticket manager before transitioning to director of special projects—a role he held from 1986 to 2012 before assuming his most recent position.
An Indianapolis native and Indiana University Kelley School of Business graduate, Bruce Schumacher is a member of the Metropolitan Development Commission and serves on the board of the Indianapolis Neighborhood Housing Partnership.
 
Lewandowski, the reigning International League Executive of the Year, is set to begin his 24th season with the Indians and has served as the organization's general manager since October 2014.
After beginning his career as a ticket office intern in 1994, Lewandowski has steadily risen through the ranks while holding the positions of assistant ticket manager, director of operations, and assistant general manager. A native of Fort Wayne, Lewandowski graduated with a degree in business management from Anderson University in 1993.
He was also a four-year starter on the Ravens' baseball team, where he earned academic All-American honors as a first baseman and pitcher.
 
Longtime Indians executive Cal Burleson transitions to senior vice president of community affairs. Burleson was previously vice president of baseball and administrative affairs and served as general manager before that.
The team led Minor League Baseball in attendance this year, bringing 636,888 fans through the turnstiles. The team has seen its attendance increase dramatically over the last five years, hitting a record 662,536 last year.
Indians attendance has seen an almost straight line of increases since 2009, when its attendance was 549,552. 
In the mid-1990s, Max Schumacher convinced former Mayor Stephen Goldsmith to buy into his vision for a new downtown ballpark, replacing dilapidated Bush Stadium in 1996 with 14,200-seat Victory Field. Instead of allowing the city to cover the team's cost to play there, he insisted that the club shoulder operating expenses and general maintenance,
In October 2015, the Indians signed a new 20-year lease with the city's Capital Improvement Board to keep the team in Victory Field.
Under the terms of the agreement, which began April 1, the Indians pay no rent, but will continue to cover all maintenance, repairs and operational expenses. Under the former 20-year lease deal, the Indians paid $500,000 annually to lease the 14-acre venue on the west edge of downtown and an additional $50,000 annually as part of a ballpark improvement fund.
Under the new deal, the CIB agreed to pay about $2 million to replace the scoreboard and add ribbon signage boards; up to $1.8 million to complete the Home Plate Club premium area on the suite level; up to $1.95 million to renovate 30 suites; up to $1.75 million to replace all stadium seating; and up to $1.54 million to complete an extension to the administration office level.
Please enable JavaScript to view this content.