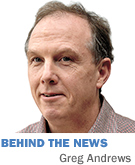 Steve Schenck was one of Indianapolis' top bankers and was in the prime of his career when he walked away in 2007 to care for his wife of 37 years, Becky, who had been diagnosed with terminal brain cancer and told she had only 12 to 15 months to live.

"I have really great memories," Steve said of his banking career. He started with Indiana National Bank in 1973 and was just 36 when he became chief financial officer in 1986. By the time he quit at age 58, he was CEO for Regions Bank in the Midwest, overseeing six states, $15 billion in assets and 2,300 employees.

But you won't find a tinge of regret about leaving it all behind in the new book, "Beyond Words: Becky and Steve Schenck's Inspiring Story of Faith, Hope, and Love in the Face of Terminal Brain Cancer." In fact, Schenck is grateful. With the help of a dream team of doctors and other health care providers, Becky defied the odds and lived 10 years beyond her prognosis—time together Steve cherishes and wouldn't trade for anything.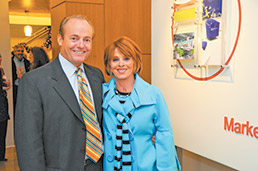 Steve and Becky Schenck remained active in community affairs during her decade-long battle with brain cancer that ended with her death in July.
(Photo courtesy of Steve Schenck)
"Beyond Words" chronicles the decade-long odyssey that led up to Becky's death in July. It's filled with resources that can help families coping with the same glioblastoma multiforme diagnosis that rocked their world. Steve hopes the book—written by Indianapolis freelance writers Lisa Abbott and Erin Sheets, published by IBJ Book Publishing and available through Amazon and beyondwordsbook.com—helps others cope and explore treatment options.

But at its heart, "Beyond Words" is a love story. Asked his motivation for doing the book, Steve said, "What's most important to me now is just sharing the story about how awesome she is."

That's something many people already know, thanks to the couple's deep involvement in community affairs and not-for-profits. One of Becky's most cherished relationships was with the Christamore House, a community center serving the hardscrabble streets of Haughville on the near-west side, where she volunteered hundreds of hours and served as president of its guild. In recognition of her efforts, the organization in 2007 renamed the preschool the Becky Schenck Early Childhood Education Center.

Steve said Becky insisted on remaining engaged in the community after she got sick in August 2006.

It all came out of the blue. She was poolside with family when she tried to talk to a granddaughter but no words would come out.

Several weeks later, it happened again. Steve raced her to Community Hospital North, where she suffered a seizure, her body jerking uncontrollably.

An MRI found the tumor. Within days, Steve and Becky were absorbing the bleak prognosis: The cancer was likely to take her within months.

Becky girded for the fight, telling WTHR-TV Channel 13, "I am not giving up. That is just me. I am a go-getter and I am not going to give up. I will fight until I die."

For guidance, Steve and Becky turned to a cadre of physicians, among them longtime friend Dr. Tim Kelly and Dr. Jennifer Morgan, an oncologist at Indiana University Health. The couple soon learned the tricky brain surgery Becky needed could best be performed by Dr. Mitchel Berger, a pioneer in 3D brain imaging at the University of California San Francisco. They reached out, and Berger agreed to perform the operation.

The Schencks also explored experimental drug trials, ultimately enrolling in a Phase I trial conducted by Eli Lilly and Co. Steve said he believes the entire regimen of treatment, including radiation, added years to his wife's life.

For each of the first three years after her diagnosis, the Schencks held a bash at their Fishers home to celebrate another year of survival. Hundreds of guests attended. It was almost like a wedding reception.

Initially, Steve said, "We were concerned with how long we had—that was the issue. Then, as Becky was successful, we didn't become complacent, but we were starting to believe that she was going to beat this thing."

In July 2013, Steve and Becky were eating dinner at Cheeseburger in Paradise in Fishers when her face went blank and her eyes fluttered. Steve knew the cancer was back.

Through the odyssey, Becky never complained and never changed the core of who she was, Steve said.

Even at the end, she enjoyed wearing nice clothes and wouldn't go anywhere without makeup. For the final six months, Steve was the one who put it on. "Actually, I am pretty good at it," he said with a chuckle.

Becky's death has put Steve at something of a crossroads. "You go from 24/7 caregiver, and then the next day there's zero, right? You're in the same house. Nothing's going on. It's a process."

After a recent interview with IBJ over breakfast at the Hawthorns clubhouse in Fishers, a regular haunt of theirs, he settled the bill and savored the memories.

"She was amazing," he told the staff as he left. "Every time she came in here, she looked her best."•