A growing number of Indianapolis residents are making the most of their public library system.

The Indianapolis-Marion County Public Library system says it's on pace for a record year in terms of use by patrons and items circulated.

In the first half of 2009, all locations counted 2.9 million visitors, a 3-percent increase over the same period last year. In 2008, the library set a record with 5.6 million visits and nearly 16 million items circulated.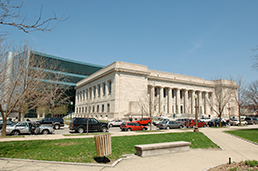 The library system registered growth, including 19,000 new borrowers this year. (IBJ File Photo)

The library system recorded growth in all categories for the first half of the year: 8.5 million items were circulated, a 9-percent increase over the same period in 2008; 592,000 computer hours were logged, a 24-percent increase; and there were 5.1 million visits to the Web site, www.imcpl.org, a 13-percent increase.

The library also has 19,000 new registered borrowers, bringing the number of card holders to 488,000.