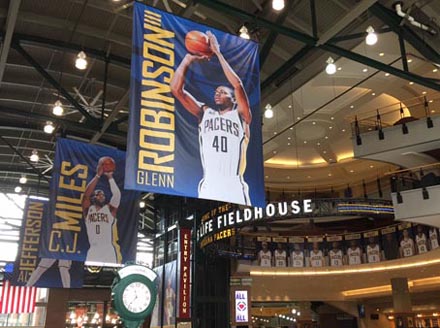 The Indiana Pacers—who do hundreds of thousands of dollars in business with the state annually—hosted Gov.-elect Eric Holcomb's transition team in a suite at Monday night's game versus the Warriors.
Holcomb and Lt. Gov.-elect Suzanne Crouch paid for their tickets, said transition spokesman Pete Seat. But other members of the transition team—a who's who of GOP policy and political leaders—attended using free tickets offered by Pacers Sports & Entertainment Vice Chairman Jim Morris, who is also a member of the transition team, Seat said.
He said those transition team members are "private citizens and therefore nothing applies to them," meaning no state laws or ethics rule prevent members of the group from accepting gifts.
That's true. State ethics rules prohibit employees or "special state appointees" from accepting gifts, entertainment, food or travel from people who want something from the agency they are representing. But members of the transition team fall into a different category.
Although they are appointed to perform a service for the incoming governor—a list of duties that include recommending political appointments and changes in state government structure and planning inauguration activities—they are doing so through a not-for-profit called Next Level Indiana Inc.
State law and ethics rules don't address the activities of transition team members or the not-for-profit groups set up for them. But former state lawmaker David Orentlicher, an ethicist at the Indiana University School of Law, said they should.
He said the Legislature should consider writing ethics rules for transition teams.
"Whether at the national or local level, transition teams can have a big impact in terms of setting the course for the administration," he said. And he called the situation with the Holcomb transition team "worrisome."
"It raises the same concerns as do gifts to state employees," Orentlicher said. "It may not violate the letter of the law but it does the spirit. These rules are about trying to prevent influence by people who have business before the government."
The Indiana Economic Development Corp. has a $1.4 million, two-year contract with the Pacers to put advertising in Bankers Life Fieldhouse. Holcomb, as governor, will serve as IEDC chairman. In addition, the Indiana Criminal Justice Institute has had several contracts over the years with the Pacers to promote traffic-safety messages. The governor appoints the institute's director.
Holcomb, who is currently lieutenant governor, and Crouch, who is currently state audtior, paid for their tickets "out of an abundance of caution," Seat said. But he said there was no reason for the 16 members of the transition team—including former Lt. Gov. Becky Skillman, Indiana Energy Association President Emeritus Ed Simcox and incoming Chief of Staff Earl Goode—to pay for their tickets.
Gerry Lanosga, president of the Indiana Coalition for Open Government, said the transition team's acceptance of a free suite from the Pacers "doesn't seem like a huge issue."
"But ideally, it would be the kind of thing to avoid," he said. "Ideally, there wouldn't be any of this sort of thing going on. There would just be zero … especially when you're starting a new administration."
Pacers spokesman Bill Benner did not return a call seeking comment.
Please enable JavaScript to view this content.