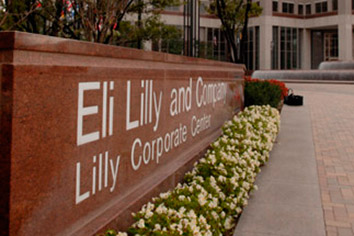 Eli Lilly and Co.'s experimental Alzheimer's treatment solanezumab failed to slow the progression of the neurodegenerative disease, yet another setback to drugmakers and researchers who continue to seek a way to treat one of the most feared ailments in the world.
Patients treated with the drug didn't show a meaningful slowing of cognitive decline compared to those who got a placebo, Lilly said in a statement Wednesday morning. The drugmaker said it hasn't decided what next steps, if any, to take with the drug.
The results of the trial "were not what we had hoped for and we are disappointed for the millions of people waiting for a potential disease-modifying treatment," said John Lechleiter, Lilly's outgoing CEO. "We will evaluate the impact of these results on the development plans for solanezumab and our other Alzheimer's pipeline assets."
The findings are the latest setback in the quest to find a treatment for Alzheimer's disease, which affects more than 5 million Americans and 40 million people worldwide. More than 100 compounds have failed to show they could slow the condition that robs patients of their minds and eventually their ability to care for themselves.
Lilly shares fell 14 percent to $65.15 in trading before the markets opened.
The company will take a $150 million pretax charge, or about 9 cents a share after tax, related to the trial. It plans to announce 2017 guidance on Dec. 15.
Results from the large, final-stage clinical trial showed that patients with mild Alzheimer's who took solanezumab didn't respond better than patients given a placebo on tests of memory and mental function, Lilly said. The drug is designed to latch onto and isolate soluble forms of beta amyloid, the protein that experts believe turns toxic when it forms into clumps between the brain's synapses.
Lilly said that other measures in the trial "directionally favored" the drug compared with a placebo, but the differences were small. More data from the trial will be presented next month at a medical meeting.
Current Alzheimer's treatments like Aricept and Namenda only temporarily ease symptoms such as memory loss, confusion and agitation. They don't slow, stop or reverse the mental decline that happens when the brain's nerve cells stop functioning normally.
At least 18 other drugs are in late-stage testing, including several similar to solanezumab.
The dementia-causing disease has grown into the sixth-biggest cause of death in the U.S., killing about 700,000 people annually, and is the only fatal condition among the top 10 in the U.S. that cannot be prevented, cured or slowed, according to the Alzheimer's Association.
Lilly has spent three decades developing treatments for Alzheimer's disease, persisting in its efforts even as numerous attempts failed. The potential payoff for a medicine that actually slows the progression of the disease, keeping patients out of nursing homes and with their mental abilities intact, is massive.
Lilly and other companies that have spent billions developing amyloid-blocking drugs so far have nothing to show for it.
Even so, incoming Lilly CEO Dave Ricks told CNBC Wednesday morning that "we think the amyloid hypothesis should continue to be studied."
Wall Street analysts have said that Lilly's pipeline of new drugs is so flush that the company is poised to post robust sales growth in the coming years even without solanezumab.
They had issued widely varying projections on how much of a sales boost Lilly might get from a successful final trial followed by U.S. Food and Drug Administration approval. Some had estimated annual sales of solanezumab might reach $6 billion a year. The company has about $20 billion an annual sales now.
Eli Lilly "is a pipeline-driven return-to-growth story … with a major potential turbo charger in the form of solanezumab," Sanford C. Bernstein & Co. analyst Tim Anderson said in an October report.
Please enable JavaScript to view this content.