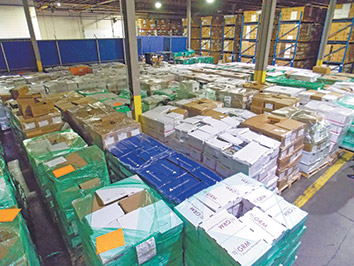 Among the fallout from the ITT Educational Services bankruptcy are the multiple pallets of paperwork being offloaded every weekday into a chilly warehouse south of downtown Indianapolis.
Each of the wooden pallets is stacked with 40 Bankers Boxes containing 20 to 30 files from the for-profit college's campuses around the country. Of particular concern are records of the students and alumni, not only because they include transcripts, loan information, Social Security numbers and other personal data, but also because these documents will likely need to be accessed long after the bankruptcy is finished.
Monday through Friday, forklifts motor into trucks parked at the loading dock of GRM Document Management, retrieving the remnants of the education business. In a two-week span, ITT collapsed from 8,000 employees, 40,000 students and 138 locations to just five employees.
ITT, headquartered in Carmel, filed a voluntary petition for Chapter 7 bankruptcy on Sept. 16 in the U.S. Bankruptcy Court for the Southern District of Indiana. The liquidation proceedings came, in part, after the U.S. Department of Education clamped down on federal aid flowing into the college by prohibiting the institution from enrolling new students with federal loans, and by slowing down the pace at which ITT received student aid in order to ensure finances were being properly handled.
That same day, Deborah Caruso of Rubin & Levin P.C. in Indianapolis, was appointed trustee of the ITT estate and charged with identifying and liquidating the assets for the benefit of the creditors. As trustee, her counsel includes attorneys from her firm and from Proskauer Rose LLP in Chicago.
The student records are only one aspect of this bankruptcy. There are employee records, pension benefits and 401(k) retirement funds, plus lawsuits previously filed by federal agencies and some states' attorneys general.
ITT leased 106 facilities and owned 31 across 38 states. Immediately, Caruso and her team had to find and secure each building, and identify and gather all assets and records.
"These schools had classrooms in them, they had computers, they had furniture and fixtures, but the real critical issue was there were student records in all of these locations," Caruso said. "This school had been in existence since 1946, so you just had a plethora of records in the campuses and also you had records in storage facilities."
The process of boxing and removing the business and academic records from the leased sites under more ordinary circumstances would take from six months to a year but is being completed in weeks. Speed was paramount because Caruso feared the building owners would clean out the vacant facilities and toss the documents.
Money needed to pay the expenses for moving, warehousing, record retention and maintenance on the owned properties drained the ITT accounts. In its bankruptcy petition, ITT estimated assets and liabilities both in the range between $100 million and $500 million, although Caruso cautioned the schedules may not be correct because they were not prepared by ITT executives.
On top of this, the trustee also is dealing with refund checks sent to students and paychecks sent to employees that bounced.
In addition, Caruso contracted with digital credential service Parchment to create a database of transcripts that ITT had digitized since 2001. However, students are discovering missing classes and wrong graduation dates.
Caruso would not attribute the mistakes to sloppy recordkeeping. Instead she explained, "You know, when the plane crashes at the end, there's going to be scattered wreckage."
Ongoing lawsuits
On Nov. 4, Judge James Carr approved a revolving loan up to $6 million between the trustee and the secured lender, Cerberus Business Finance LLC, to cover ongoing expenses.
The trustee got additional relief Nov. 8 when the bankruptcy court issued an order enjoining lawsuits filed against ITT from proceeding until Dec. 21. Responding to those complaints would deplete time and money from the estate in large part because of the massive amount of records still to be catalogued, Caruso argued.
"If the litigation went forward, there'd be discovery," Caruso said. "First of all, we're trying to identify where all the records are, we don't even know where all the records are, and we're learning their systems and so forth, so it would probably be impossible for us to even answer their discovery."
Several complaints were filed against ITT long before the bankruptcy petition. They include actions by the Consumer Financial Protection Bureau, the attorneys general of New Mexico and Massachusetts, and the U.S. Securities and Exchange Commission.
Caruso is also investigating potential claims against ITT's officers and directors. She declined to provide details, saying the work was still in the investigatory stage.
However, plaintiffs in these types of cases have a difficult time prevailing, said Christopher Ward, a Delaware attorney at the Polsinelli law firm who's a member of the American Bankruptcy Institute's board of directors. They would have to prove gross negligence, a high standard. The defense would likely be able to stop the claims with the argument the officers and directors used their business judgment when making decisions and did not breach their fiduciary duties.
Along with the actions, Caruso as trustee is also dealing with employee retirement accounts. The 401(k) has about $100 million and the pension plan is overfunded with $72 million. Websites have been created for former students and employees to answer their questions.
Law firm Faegre Baker Daniels LLP has assisted with drafting content for the ITT workers' site. It was necessary, partner Jay Jaffe said, to avoid an inordinate number of phone inquiries from professors and staff.
Ward, who helped to represent former students when Corinthian Colleges Inc. filed for bankruptcy in 2015, said a similar website was created in that case but students still called and emailed. In a couple of instances, some of them were confused by the documents they received and mistakenly showed up for court dates.
Warehouse of records
Initially, Caruso estimated there would be 20,000 boxes of student records from the ITT facilities, but that number has doubled.
To handle the flow of ITT materials, some GRM employees have worked on Saturdays to process the records, and the company rented another forklift and bought a fifth electric pallet jack to haul the records from the delivery truck to their eventual spots on 27-foot-high metal shelves.
Each box is barcoded and the contents are catalogued so, at any time, the trustee can log on to a special web portal, see what is available and request a box be delivered to her office. Inside the GRM warehouse, a clerk will climb on a yellow three-wheeled tricycle and, using a handheld scanner, locate and retrieve the materials.
The urgency needed in securing and storing the records makes the college bankruptcy unique for GRM. But other than that, "we're not doing anything for ITT that is any different from what we've provided to other customers," said Bob Hudson, GRM digital sales executive.
While the records are being processed, various states' attorneys general have been clamoring for the documents, citing statutes that require them to take possession of the student records when schools close.
However, Caruso maintained the states could not grab the records because they are needed in the bankruptcy proceeding. Still, she acknowledged the AGs have a duty and she hopes a protocol can be developed giving states access to the records.
Similar demands were made when Corinthian Colleges closed. But the AGs backed off once they realized they would have to pay for storage for a long time, Ward said.
Caruso expects the ITT bankruptcy to play out in court for at least another three years. Although there is no model to follow for Chapter 7 of a for-profit college, she said the bankruptcy process is working.
"Again, the luxury we have with the bankruptcy courts is that they understand the urgency of these matters," Caruso said. "Judge Carr has issued rulings … I think most of the time on the bench or immediately thereafter. He appreciates that has to happen to keep this process moving."•
Please enable JavaScript to view this content.