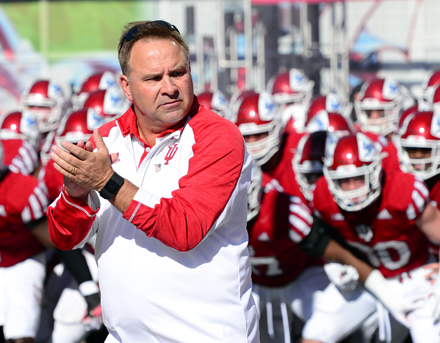 When Indiana athletic director Fred Glass woke up Thursday morning, he knew the Hoosiers' football program would be turned upside down.
By nightfall, Glass had collected Kevin Wilson's resignation, Tom Allen's agreement to take over as head coach and was trying to swat away questions about whether Wilson was leaving because of player mistreatment.
It was one of the strangest days in program history. Less than a week after becoming bowl-eligible for the second straight season, Wilson was out of a job because of what Glass described as "philosophical differences."
"I thought the core of what we talked about boiled down to leadership and how you are a leader," Glass said. "I think Kevin and I have some honest disagreements about how you go about that. I'm not saying I'm right and he's wrong. I think we concluded, maturely and appropriately, it's time to go our separate ways."
During a hastily arranged evening news conference, Glass never explained in detail how their approaches differed. He was, however, peppered with questions about whether his decision was linked to reports about medical complaints from players during Wilson's tenure.
Each time, Glass downplayed the significance of the reports, though he did acknowledge athletic department officials hired an Indianapolis law firm to look into claims by some former players. The results, Glass said, showed Wilson's players were treated properly.
"The reason I can speak so confidently that we don't have any medical issues and that our medical care has been so robust is that the outside group found that to be the case," he said.
Glass even cited the example of Wilson's own son, who has had concussions, to explain why Wilson was exceedingly cautious with head injuries.
Backup quarterback Zander Diamont also came to Wilson's defense.
Following Saturday's bowl-clinching victory over Purdue, Diamont announced he would not return next season because he could graduate this summer and had a history of head injuries. At the time, Wilson acknowledged he was surprised by Diamont's decision and had checked with Diamont to see if he may change his mind.
"I have no knowledge of my announcement last weekend having anything to do with Coach Wilson being fired. I certainly hope that's not the case," Diamont wrote on Twitter after word leaked of the impending change. "Coach Wilson and IU football followed concussion protocol to the letter. Coach Wilson was completely supportive during my recovery and didn't want me back on the field until I was completely recovered and, beyond that, felt that I was 150%."
Neither Wilson nor his agent responded to messages seeking comment. Glass also said no potential NCAA violations were involved.
Wilson departs less than 10 months after agreeing to a six-year contract extension worth $15.3 million. Glass said Indiana is only on the hook for next year's base salary, $542,000.
Wilson went 26-47 in six seasons and was Indiana's longest-tenured coach since Bill Mallory, the school's career leader in wins, left after the 1996 season. Wilson's teams had shown steady improvement over the years, earning their first back-to-back bowl bids in 25 years while tying the school record for most consecutive wins (four) against rival Purdue.
Allen's promotion from associate head coach and defensive coordinator takes effect immediately, avoiding a coaching search as Indiana (6-6, 4-5 Big Ten) waits to find out which bowl game it will play in. He agreed to a six-year deal. Glass said the financial details still have to be worked out but promised the payout would put him at a competitive scale in the Big Ten.
"It's hard to believe," Allen said. "This day has been an absolute whirlwind."
Wilson was an offensive assistant at Oklahoma from 2002-10, working with Bob Stoops to create some of the most explosive offenses in college football. He and the Sooners went to 10 consecutive bowls, including three national championship games, and the 2008 offense under his guidance set NCAA records by scoring at least 60 points in five straight games and 716 total points.
He was considered a red-hot hire, brought in to replace Bill Lynch, and he didn't disappoint. Hs aggressive, wide-open offense injected excitement into a floundering program that was losing fans.
Over his first three seasons, things did not go smoothly. But by Wilson's fourth season, there were signs of progress and he backed it up with consecutive six-win seasons in which the Hoosiers became increasingly competitive against the likes of Ohio State and Michigan.
"Transitions in this profession are hard under any circumstances, let alone this. My heart breaks for him," Allen said. "I never expected this to happen."
Allen returned to his home state last offseason and presided over one of the nation's biggest defensive turnarounds .
Before coming to Bloomington, Allen was the defensive coordinator at South Florida and served as a defensive assistant at Ole Miss, Arkansas State, Drake, Lambuth and Wabash. His only previous head coaching experience came from 2004-06 at Ben Davis High School in Indianapolis.
Player mistreatment allegations have cropped up elsewhere in recent years.
Illinois fired coach Tim Beckman a week before the 2015 season following allegations that he mistreated players, interfered in player medical decisions and pressured players to play hurt. A law firm hired by the school to investigate said it found evidence of both interference in medical decisions and pressure on players to play through injuries. Beckman denied any wrongdoing and was paid $250,000 as part of a settlement with the university.
Please enable JavaScript to view this content.