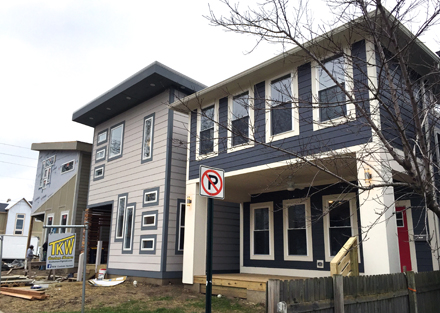 A local residential developer is helping to transform a ramshackle intersection in Fountain Square by building three upscale homes while aiming to construct up to 10.
TKW LLC, operated by brothers Nick, 31, and Alex Burrow, 29, entered the Fountain Square neighborhood southeast of downtown in late 2013 and has amassed 40 parcels, including some in adjacent Bates-Hendricks to the west. A younger brother, Luke, works for the company during the summers.
On the east side of Fountain Square at Orange and Spruce streets, TKW has sold one of the homes and has two more under construction near the southeast corner of the Intersection just north of Pleasant Run Parkway. It also is planning a duplex directly on the southeast corner.
At the northeast corner of the intersection, TKW hopes to build five more spec homes if the city grants the necessary variances to construct them on two vacant lots. All told, the company could invest $2.5 million in the area.
"We're trying to supply this downtown movement," said Nick Burrow, referring to the recent influx of new-home construction in Fountain Square.
TKW's homes range in size from 2,000 square feet to 2,400 square feet, include two-car garages, and are priced between $300,000 and $350,000. The designs, described as 21st century modern wedge, are inspired by mid-century wedge houses once popular in Palm Springs, California.
Wedge homes typically have flat, single-slab roofs that often are tilted at an angle. Features include large overhangs, unique front pillars, and doors and windows that echo the tilted geometry of the exterior.
TKW designs its homes. At Orange and Spruce, it bought the existing houses from their owners and demolished them. The new houses are meant to meld with the area's aging housing stock to give the impression of a fresh look, but the neighborhood's reputation for crime precedes it.
At one address where TKW is building, police have stopped by four times attempting to serve warrants, not realizing the previous residence has been demolished, Burrow said. Some prospective buyers and renters (TKW also has renovated rentals in the area) express concern about the poor condition of neighboring homes, but most of the feedback is positive.
Beside the house TKW already has sold at Orange and Spruce, the company is fielding "active interest" on the two others under construction, Burrow said.
"We'll be in the neighborhood building houses for at least two more years," he said.
Burrow graduated from Purdue University in 2008 with a degree in management. Facing an unstable job market, he, along with his brother, stumbled onto several vacant homes in Eagledale on the city's west side near 34th Street and Georgetown Road.
Renovations to the nearly identical ranch-style homes were easy to replicate, making for quick rentals. They amassed a total of 26 homes in Eagledale before selling them to a local investor.  
The brothers renovated a few more houses in south Broad Ripple and on the east side before arriving in Fletcher Place and Fountain Square. They own a 10-unit apartment building in Fletcher Place and 10 rental homes in Fountain Square.
The two ultimately want a mix of commercial and residential development in Fountain Square to diversity TKW's portfolio, Burrow said.
Please enable JavaScript to view this content.