A Plainfield winery is being sold by its owner, a wine enthusiast who turned his hobby into an enduring business.
Dr. Charles Thomas, who opened Chateau Thomas Winery on the south side of Indianapolis in 1984 with his wife, is 84 years old and says he plans to retire.
Thomas, an obstetrician and gynecologist, started the business after deciding in the 1970s to expand winemaking from an avocation into a full-time job. He spent years traveling to study, research and taste wines from all across the world.
Chateau Thomas now produces more than 15,000 cases of 50 different wines annually. It also operates a tasting room, gift shop, banquet facility and outdoor entertainment venue. In 2014, the winery reported that it had 200,000 visitors, which ranked it tied-for-16th on IBJ's list of most-popular Indianapolis-area attractions.
Thomas said Tuesday that it will be difficult for him to let go of the business. He's searching for the right buyer who will keep operations running similarly.
"I'm sure I'll be around for a while to make sure it runs well," Thomas said. "I don't anticipate any significant change. … I don't have a lot of control over what they do with it, but I have some."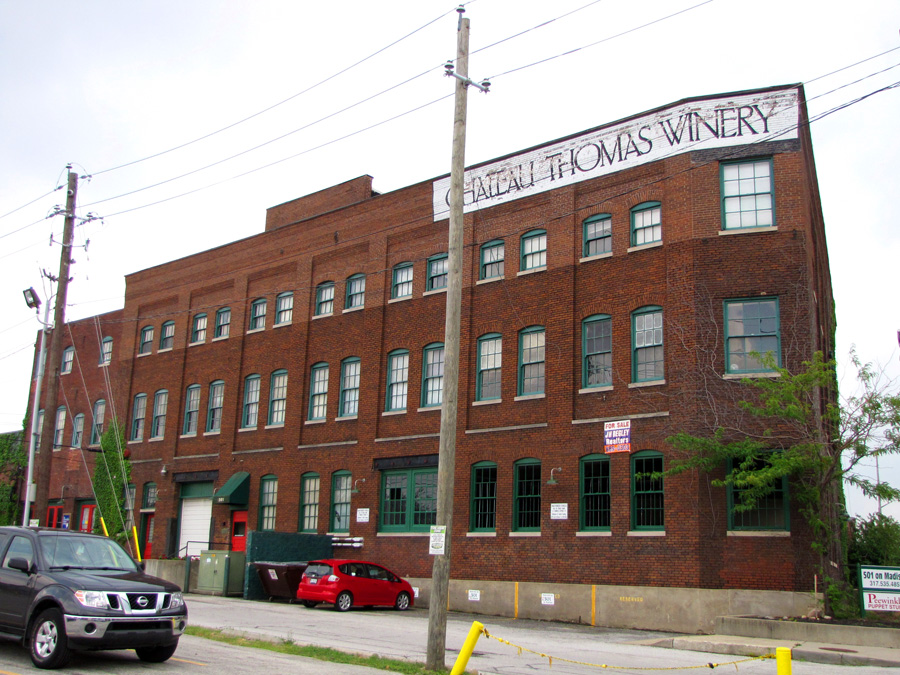 Chateau Thomas Winery moved from its Indianapolis location at 501 S. Madison St. (see accompanying image), where Tow Yard Brewing Co. is today, to Plainfield in 1997. In 1994, the winery opened a tasting room in Nashville, Indiana, that still exists today and is part of the sale package. It expanded to Fishers in 2009, but that location has since closed.
The 11,316-square-foot Plainfield location at 6291 Cambridge Way features a tasting room, gift shop, outdoor venue and 4,000-square-foot banquet room for events. An additional 1,850-square-foot building is also on the 2-acre property.
Thomas said he has seven full-time and 25 part-time employees, and it's his priority to keep most of the staff. 
"Most of the people have been here for quite some time, and they run the business like a well-oiled machine," Thomas said.
Chateau Thomas is recognized for its Slender wine, which is a naturally sweetened and carb-free, and the Abe Martin wines, which are 99.5 percent Vinifera wines combined with 0.5 percent fruit essence. Its wines are sold in more than 200 retail locations throughout the state.
Thomas declined to provide the asking price for the business. The listing for the winery says revenue is growing, but does not disclose specific figures or an asking price for the business.
Thomas said the event venue side of the business has been growing significantly in recent years, and he expects that to continue.
Chateau Thomas produces all of its wines from Vinifera grapes harvested in California, Oregon and Washington. The grapes are chilled, shipped to the Plainfield facility and processed on site.
Please enable JavaScript to view this content.