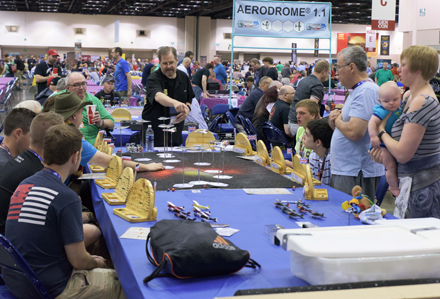 Gen Con has agreed to a one-year extension to its current agreement with the city of Indianapolis, extending the massive gaming convention's stay through 2021, it announced Tuesday.
IBJ reported in November that the city's tourism marketing arm had agreed to submit a one-year contract extension offer to Gen Con organizers to keep the event in Indianapolis beyond 2020.
The deal includes an option allowing Gen Con to renew the agreement annually.
"With Gen Con approaching its 50th convention in 2017, we look forward to celebrating many more historic years in Indy, as well as serving as a hub for a thriving community of Hoosier gamers," Gen Con CEO Adrian Swartout said in a written statement.
Gen Con moved its annual convention to Indianapolis in 2003 and last completed an extension agreement in 2011. Since moving to the city, Gen Con's attendance has nearly tripled, from 23,000 to more than 61,000. It's one of the city's biggest conventions, with an estimated economic impact of $70 million.
"The City of Indianapolis is proud to be the home of Gen Con, and we are appreciative of their continued commitment to our great city," Mayor Joe Hogsett said in prepared remarks. "This iconic event draws gamers from around the globe, and we look forward to welcoming them year after year with the Hoosier hospitality that we are so well known for."
Visit Indy currently has a deal to host the event for the next four years. While the short-term agreement with Gen Con doesn't offer the city as much security as its current agreement, it's not an unusual request.
Visit Indy inks one-year deals with some of its biggest clients, including the Do it Best Corp. show and the Fire Department Instructors Conference. Those agreements are also negotiated several years before the show.
Gen Con will return to Indianapolis Aug. 17-20 to celebrate the convention's 50th anniversary.
 
Please enable JavaScript to view this content.