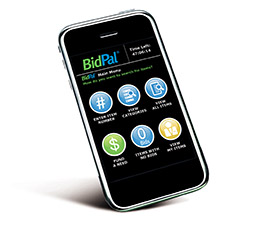 Indianapolis-based fundraising-software firm BidPal Inc. has landed $6 million in financing to help it fuel expansion, the company announced Tuesday.
The company said two existing investors, Chicago-based venture capital firm MK Capital and Fishers-based Allos Ventures, have agreed to supply BidPal with $3.5 million in new equity. MK Capital and Allos provided BidPal with $5.6 million in funding in 2011.
In addition, Square 1 Bank, a division of Los Angeles-based Pacific Western Bank, is providing a $2.5 million line of credit.
BidPal said it plans to use the funds to "significantly accelerate product development" and "expand marketing and sales efforts."
The company creates mobile fundraising software that helps not-for-profits engage donors and raise more money.
"We're really just scratching the surface in terms of the opportunities for digital giving," BidPal CEO Steve Johns said in a written statement. "This financing will help us achieve our mission of connecting donors and organizations with affordable, best-in-class fundraising tools."
BidPal said its clients have run more than 2,500 fundraising campaigns with its software this year, raising hundreds of millions of dollars for their causes.
The number of event fundraisers powered by BidPal grew 33 percent this year, and its software subscriber count grew 32 percent.
Founded in 2007, BidPal was one of the area's fastest-growing companies earlier this decade. It grew revenue from about $5.2 million in 2011 to $13 million in 2013—a growth rate of 151 percent—and increased its headcount from 51 to 113 during that span. The firm was named Techpoint's "Emerging Technology Company of the Year" in 2013.
But company employment began to shrink in 2014 as simpler software reduced the need for support staff. The company reduced its workforce from 113 to 84, and, soon after, brought in Chicago entrepreneur Johns to succeed longtime CEO Scott Webber.
Under Johns, employment has remained in the mid-80s, the company said.
The company was offered $2.15 million in tax breaks from the Indiana Economic Development Corp. in 2012, but would need to have 172 employees by the end of this year to meet the job-creation requirements for those incentives.
Please enable JavaScript to view this content.