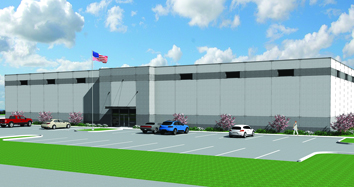 Monstrous distribution centers approaching 1 million square feet are in such high demand that developers are building them before they even sign a tenant.
But a local company is betting there's still a need for smaller warehouses that sometimes get overlooked by developers in the race to attract big online retailers such as Amazon.
RAS Development LLC, a division of Indianapolis-based Calderon Textiles, broke ground Monday on a 64,000-square-foot building on the northwest side, near Georgetown Road and West 71st Street. RAS has enough land available to construct two more buildings—at 60,000 square feet each—or a single, 120,000-square-foot warehouse.
Ammar Khan, RAS' director of business development, said the company is now beginning to market the property and is getting some interest. He declined to provide a cost for the project but said RAS likely won't start on the next building until the first is occupied.
"We would like to see a tenant in the current building that is being built and, as we see interest, partner with someone [on the next building] to build it to their specifications," he said.
The building that got under way on Monday is expected to be finished next summer.
It already has one tenant: Calderon Textiles, which will take half the space, or 32,000 square feet. The company, at 6131 W. 80th St., already occupies a 105,000-square-foot warehouse that was built in the 1970s on 21 acres that RAS owns. It plans to expand into the new building.
Calderon, a distributor of linens to the health care, hospitality and retail industries, was founded in 1983 by Khan's father, Azher Kahn. The company needs more space to stock additional inventory to meet growth demands, Ammar Khan said.  
As a division of Calderon, RAS Development bought the land and existing warehouse at 71st and Georgetown in 2000. The logistics park will be called Park 101, in a nod to its proximity to Park 100, the city's oldest industrial park.
Calderon's new building will feature 26-foot clear heights, five dock doors, high-efficiency lighting and on-site trailer parking, Ammar Khan said.
Those features should be attractive to companies, considering that some nearby buildings in Park 100 that were constructed in the early 1970s have clear heights as low as 14 feet, said Jason Speckman, an industrial broker at Colliers International.
"There is absolutely ongoing demand for what we consider mini-build warehouses, especially in the Park 100 area," he said. "What you see a couple of owners doing is trying to introduce a more modern product to that submarket."
Overall, the Indianapolis industrial market has been going gangbusters this year. Through September, the area's vacancy rate had declined for the fourth straight quarter, to 5.6 percent, as 7.4 million square feet of net industrial space was absorbed through the first nine months.
Please enable JavaScript to view this content.