When outgoing Indiana Attorney General Greg Zoeller leaves behind his Statehouse office in January, there are a number of projects in the private sector he plans to pick up.
Those projects will cover "a little bit of everything" in the legal community, the two-term Republican said, but one of the areas he's most looking forward to working in is legal education and training.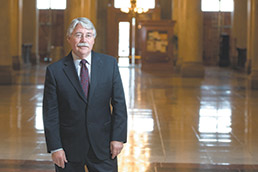 Republican Indiana Attorney General Greg Zoeller is preparing for life in the private sector as he transitions out of the attorney general's office after 15 years, with eight as AG. (IBJ Photo/Eric Learned)
As attorney general, Zoeller created an in-house training program during his first term to ensure his deputies — whom he refers to collectively as a "big law firm" — are trained and competent to handle the wide variety of cases that find their way into the attorney general's office.
He also had a hand in creating and governing the National Attorneys General Training and Research Institute, a $2 million legal training program for deputy attorneys general throughout the country. Zoeller said implementing those two programs were among the proudest accomplishments from his eight years in office.
 Zoeller hopes to continue to assist in legal education programs with a focus on the practice of law, though he said he is still looking for a central home for all of the ideas and projects he hopes to implement once he leaves office.
He has worked in higher education, teaching courses at Indiana University Robert H. McKinney School of Law and Indiana Tech Law School, which recently announced plans to shut its doors in June.
Zoeller did not make a public comment on Indiana Tech's closure when it was first announced in late October, but told Indiana Lawyer in November that he had been a firm believer in the school's experiential learning model.
"We shouldn't leave it up to law firms to teach practice," he said.
Zoeller himself was no stranger to controversy during his eight years in office, bringing or adding the state to cases against the federal government that critics often said the state had no business joining. But while many people assumed Zoeller was attempting to fight President Barack Obama's Democratic policies, the attorney general said his concern was actually what he perceived as executive overreach.
After his first two years in office, Obama no longer had a Democratic majority, so Zoeller said the president began to take the stance that if Congress wouldn't act on his proposed legislation, he would find ways to get his polices through himself.
"You don't have to be a constitutional scholar to see that that's not really how the system is built," Zoeller said.
As a result, the attorney general either brought or joined several lawsuits, such as the recent Waters of the United States case, challenging the president's decision to enact policies through federal regulation when the legislative branch refused to act on certain bills. The issue was never about policy, Zoeller said, but instead was a question of the scope of the enumerated powers of the executive branch.
Zoeller said he believes liberals and other critics of his federal lawsuits may bring similar arguments against Republican President-elect Donald Trump, but on a policy basis. If that prediction comes to pass, Zoeller said he has urged his Hoosier Republican colleagues to continue defending the rule of law against federal overreach when Democratic challenges to Trump's policies arise.
Despite receiving his fair share of criticism for being in conflict with the federal government, Zoeller said 90 percent of the time, his work as attorney general has been collaborative with both national and state government leaders.
When he was sworn in for his second term in January 2013, Zoeller said he told onlookers that he hoped to advance his office from a great law firm to a "force multiplier" within the state government.
To Zoeller, being a force multiplier meant finding ways to increase collaboration between all three branches of government to resolve issues affecting the entire state. He pointed to initiatives such as the Prescription Drug Abuse Task Force as an example of collaboration to combat prescription drug abuse, one of the state's fastest-growing problems.
"We talk about separation of powers, but that didn't mean we couldn't work together," Zoeller said.
But now that he's leaving behind his career working among the three branches of government, the outgoing attorney general doesn't expect to return to the public sector in the future.
Zoeller said he never considered himself a politician and only chose to run for attorney general because he had been the office's chief deputy and could not go any further unless he put his name on the ballot.
 Hill
While Attorney General-elect Curtis Hill does not have the same history with the attorney general's office, Zoeller said he is confident that his successor will be able to apply the knowledge and skills he has gained as Elkhart County prosecutor to work on the wide variety of cases that fall under the attorney general's umbrella.
As he prepares to move into the office, Hill said he is cognizant of the fact that the Office of the Attorney General's day-to-day operations must continue as usual, regardless of the change in leadership. To that extent, the attorney general-elect said he has been working with Zoeller to get a handle on issues that will need his immediate attention when he takes office, such as ongoing cases that Hill will inherit.
But Hill is already looking ahead to the long-term success of his new office, which means establishing a clear foundation for future success — specifically, a foundation comprised of strong deputy attorneys general. The incoming attorney general thinks the office's staff is already talented, so he said it will largely be a matter of providing additional training to ensure the office is as strong as possible.
"I think from what I've seen, the bones are there to move in the direction I want to take," Hill said. "I'm very pleased with the prospects."
As for his future, Zoeller is looking for a home for all of the projects he wants to begin working on, but will likely spend most of his time in Indiana while also frequently traveling to Washington, D.C.
Although his 25-year career in the public sector has come to an end, Zoeller said his future plans include work with nonprofit organizations that serve a public function, so he will continue to have a hand in initiatives designed to benefit Hoosiers.
"I don't know what a full measure of service looks like, but I feel like I've tried to do my part," he said.•
Please enable JavaScript to view this content.