At a time when most central Indiana golf courses are hurting for income, Harbour Trees Golf Club is getting a windfall from a unique revenue source.

Harbour Trees raised $78,000 auctioning off 18 tee-side sponsorship markers in June. It's believed to be the first such sponsorship deal not connected to a specific event. It's certainly the first local golf sponsorship deal sold at auction, and it's a welcome revenue stream for the private Noblesville club.

The idea is so unique, said Lorryn Langton, Harbour Trees' membership sales director, that *Golf Business Magazine is doing a story on it, and courses as far away as Cleveland have called about how the local course executed its auction.

"We anticipated raising $20,000 to $25,000, so we are thrilled," Langton said. "Anything you can do to raise revenue in this economy is a big help."

The sponsorship marker for the 18th hole alone brought a bid of $25,000. The auction was so successful, Harbour Trees officials decided to auction off sponsorship markers for their 19th Hole Lounge and driving range.

"We were amazed at the size of the turnout we had for our auction," Langton said.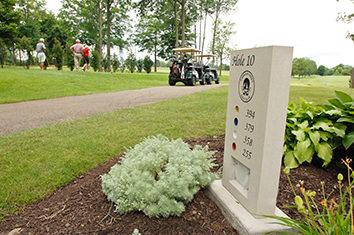 Harbour Trees Golf Club sold a single hole marker sponsorship for $25,000. (IBJ Photo/Robin Jerstad)
Club members Janet and Dick Crosser bought the 18th-hole sponsorship, but most went to area businesses, including DMD Pharmaceuticals, Gordon Marketing, Harbour House Insurance, Smith Jewelers and Burger King. All the sponsors were from the Noblesville and Westfield areas, Langton said.

"Companies here in Hamilton County were eager to put their mark on the course and get exposure among our membership," Langton said. "For some of these holes, like No. 18, we had a full-on bidding war."

Harbour Trees, which has 200 golf and 180 social members, will use the revenue for cart repairs, clubhouse and kitchen upgrades, and other infrastructure improvements, Langton said. Harbour Trees is an 18-hole Pete Dye-designed course surrounded by the 650-home North Harbour neighborhood near Morse Reservoir.

"This whole initiative enhances members' pride in the club and gives them a real sense of ownership," Langton said.

The idea came about last year when club member and local businessman Dick Gordon offered to donate stone hole markers to Harbour Trees. Gordon wanted to put his companies' names on some of the markers, and soon the club had other inquiries. Gordon put the names of his firms on four hole markers.

While lifetime sponsorships were offered starting at $5,000, most of the sponsorships are only good through 2010, and Langton thinks the initiative could bring in five figures annually for the club.

"We're thinking outside the box and showing all is not doom and gloom in this economy," Langton said. "We think we've created a nice renewable revenue stream here."

Milt Thompson, president of locally based sports marketing firm Grand Slam Cos. and part owner in The Trophy Club golf course in Lebanon, said the initiative is a natural outgrowth of golf event sponsorship, which has proven effective for years.

"The revenue-to-expense ratio on this should be pretty strong," Thompson said. "That kind of revenue can equal several months of revenue for some local courses."

Thompson said courses with large memberships and/or the highest demographics will be able to generate the most revenue.

"This certainly has worked for Harbour Trees, but I'm not certain that means it will work for every course," Thompson said.

Despite the success of the program, Harbour Trees officials don't have any plans to expand it.

"Every course has hole markers, so this is just a case of maximizing revenue from them," Langton said. "But we know there's a fine line between being creative and overcommercializing our course, and we want to respect that."•