Indianapolis Colts officials recently announced they signed a deal to make Fair Oaks Farms milk the "official milk" of the team. Financial terms of the deal were not disclosed.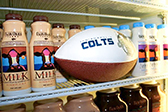 A family-owned Indiana dairy farm is the newest sponsor of the Colts. (Photo Courtesy Indianapois Colts)

The dairy will supply the milk for Colts players, coaches and staff throughout the year, said Tom Zupancic, Colts senior vice president of sales and marketing.

Fair Oaks Farms, located about 120 miles north of Indianapolis, is one of the largest family-owned dairy farms in the country. They're known for all-natural cheeses, bottled milk and gourmet ice cream, all made from the milk of the dairy's cows that have received no added hormones or antibiotics.

Fair Oaks Farms and its Dairy Adventure offer an up-close, dairy farm experience that has attracted more than 1 million visitors since it opened its doors in 2004.