The Children's Museum of Indianapolis wants the city to tear down the old Winona Memorial Hospital and clean up the site so it can build a community park and outdoor learning center.

A private firm that specializes in environmentally impaired properties wants to remove all the asbestos and medical waste and renovate the building into senior apartments, keeping what had been a for-profit hospital on the city's tax rolls.

Both groups expect to make their pitch for the run-down five-story building and adjacent parking lots at 3232 N. Meridian St. after the city takes ownership of the property, which is saddled with about $2 million in unpaid taxes.

What is clear is that any redevelopment of the 317-bed hospital, which opened in 1956, would require a large investment from the city and possibly federal stimulus dollars. No bidders have stepped up since the old owners closed the hospital and filed for bankruptcy in 2004.

Denver-based Ecolonomic Realty Group, or ERG, is studying the feasibility of gutting the inside of the hospital to make way for senior apartments, said Jerry Corbier, a principal who runs ERG's Indianapolis office.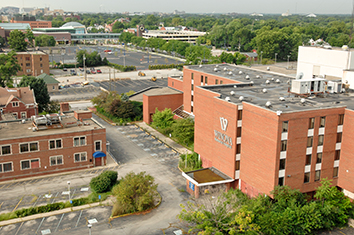 The Children's Museum of Indianapolis has proposed a park and outdoor learning center to replace the former Winona Memorial Hospital at Meridian and 32nd streets. Both the museum and hospital can be seen above. (IBJ Photo/Robin Jerstad)

Corbier said it would cost about $3 million just to remediate environmental issues inside the old Winona. The entire conversion probably would cost more than $25 million.

The company is working on a similar deal for an abandoned hospital in Fort Payne, Ala.


Financing would come from a combination of state and federal grants, tax credits, private equity and bank loans, he said. Ultimately, the advantage in reusing the building would be to return it to the city's tax rolls as a productive asset.

"We believe in cleaning properties up in a way that's most economical and least destructive to the community," Corbier said. "This is a good solid building that we believe should be saved."

The company, which specializes in finding new uses for environmentally impaired properties, also is working on a deal to acquire the old Harman Becker Automotive plant on 24 acres in Martinsville. The company's name, Ecolonomic, reflects its driving vision that "ecology and economics must be intrinsically linked if we are to create a sustainable future."

The Children's Museum would like to see Winona replaced with green space and possibly an outdoor "family learning experience," said Jeff Patchen, the museum's CEO. The museum also plans to respond if the city seeks proposals for the property.

The museum's discussions over Winona began with the administration of former Mayor Bart Peterson and have continued with Mayor Greg Ballard. But the recession has taken a toll on the museum's endowment—it lost about $90 million in 2008. (The endowment remains one of the city's richest, with $220 million at the end of 2008.)

The museum just spent $19 million, mostly from federal grants, on a new welcome center, a suspended walkway and enhanced landscaping. Patchen said the museum couldn't afford the cost of cleaning up the Winona site.

"With the financial downturn, those kind of opportunities in terms of available cash or donations have really gone out the window," Patchen said. "Our hope at this point is for the city and state to apply for stimulus funds to tear it down and clean it up."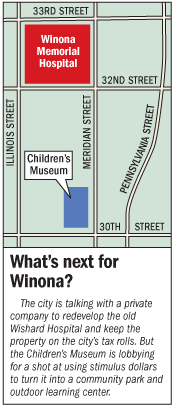 The museum could take it from there, working with partners and community groups to reuse the parcel, Patchen says. The land would be great for a YMCA branch and a park, but the museum has no use for the building itself. The demolition alone would cost about $3 million, according to an estimate the museum ordered a few years ago.

Patchen said he gets the impression city officials are leaning toward the private development option. But he hopes they give the Children's Museum serious consideration.

"The city says it has a line of people with vision for the site," he said. "In the spirit of transparency, at some point we should know (that vision). We have managed to get earmarks (federal funds) in the past but can't apply for dollars if we don't own it. We're always a phone call away."

Most neighbors just want to see something productive done with the property so it won't sit vacant another five years.

"In its current state it does no good for the neighborhood," said Michael Osborne, president of Near North Development Corp. "Something has to happen there or it'll be a shackle around everyone else's efforts in this neighborhood."

Doug Day, president of Historic Meridian Park Neighborhood Association, would be happy to swing the first sledgehammer to bring down the old hospital.

He likes the Children's Museum option best, but he also wants to hear alternatives that would keep the property on city tax rolls.

"The city has to be fair—they need to ask who's got some ideas," said Day, who can see Winona from the front porch of his house along 33rd Street. "Let's listen to all the ideas, but of all the ideas I've heard, the Children's Museum one is best."

The city isn't ruling out any possibilities, Deputy Mayor Nick Weber said in an e-mail. But ultimately, officials are waiting to officially take control of the property before they begin more serious discussions.

"A number of groups have reached out to the city in anticipation of our future ownership of the site, and we have listened to different ideas, and when possible answered questions," he wrote.

"The city is keenly aware of the challenges this site has posed in recent years to the community, and is interested in improving the area for all residents."•