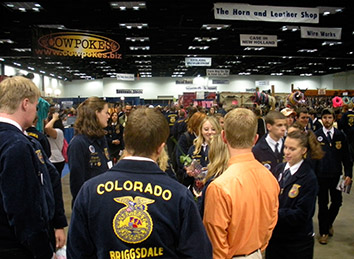 A flurry of deals in the final days of 2016 helped push Visit Indy close to a new annual record for advance bookings of hotel rooms for events in Indianapolis.
From Jan. 1 through Dec. 19, Visit Indy had booked 838,000 hotel rooms to be used in 2017 and beyond—a sizeable drop from the 2015 record for hotel room night bookings into future years of 904,717.
Advance hotel room bookings are a significant metric for convention and tourism officials. The number of rooms booked by Visit Indy is directly linked to the number of conventions the organization secures for the Indiana Convention Center and Lucas Oil Stadium—and how big those gatherings are.
But Visit Indy staffers weren't finished yet. Between Dec. 19 and Dec. 31, they signed deals for 41 events that accounted for nearly 46,000 more hotel room nights through 2021.
That pushed the total to 883,867, the second-highest annual total on record. It also was significantly ahead of the 750,000 goal set last January, and it even beat the 850,000 projection for 2016 that Visit Indy proffered in the middle of last month.
"I attribute the flurry to an aggressive sales team here that never stops selling and meeting planners not wanting to lose their dates here," said Visit Indy Vice President Chris Gahl. "The last seven days of 2016, our sales team was very successful."
Those room nights were connected to signed contracts with meeting planners, associations and other groups to hold events in Indianapolis, Gahl emphasized. Some of those deals had been in the works for more than two years.
"Nothing is counted until a contract is signed," he said. 
The bookings ranged in size from nearly 10,500 room nights to just more than 1,300.
Some of the organizations that signed deals with Visit Indy in December don't yet want their names revealed because they have not made an announcement to their membership, Gahl said.
In 2014, Visit Indy booked a then-record number of 880,552 advance room nights. Before 2014, Visit Indy had never in a single year booked 800,000 hotel room nights into future years. Visit Indy's hotel room bookings have been fueled by an expansion to the Indiana Convention Center, which opened in 2011 along with the 1,005-room JW Marriot, and a recovering economy. 
The record number of hotel rooms booked in 2015 was fueled by the contract Visit Indy signed for the massive FFA convention, which will be held in Indianapolis through 2024. It draws about 65,000 attendees per year. 
Mark Eble, a managing director of research firm CBRE Hotels, said the 2016 number might have been even higher if not for uncertainties raised by the November election.
"There's still some uncertainty with how [the election] will impact the economy, and it's been seven years since our last recession," Eble said. "Everyone knows the next dip is out there and that creates more uncertainty, which can slow spending."
While Visit Indy officials are thrilled with this year's late push, Gahl maintained—as he did during a mid-December interview with IBJ—that booking more than 850,000 hotel rooms annually is not sustainable. Visit Indy will set its goal for future hotel rooms booked in 2017 later this month.
"We believe that a stretch goal for Visit Indy is booking 800,000 hotel rooms each and every year. We think that's a sustainable number for Visit Indy and the city," Gahl said. "And that will keep the city's convention pipeline full."
Please enable JavaScript to view this content.