The Whitestown housing market is hot.

The Boone County community has a population about a quarter the size of neighboring Zionsville, but the number of new single-family housing permits filed for Whitestown has outpaced Zionsville's since 2014.

Through November last year, 208 single-family housing permits were filed in Whitestown, compared to 120 in Zionsville, according to data from the Builders Association of Greater Indianapolis. That's an increase of 63 percent over 2011 for Whitestown, while Zionsville had a 20 percent decrease in filings.

Easy access to Interstate 65 has always been a plus for Whitestown, but developers say several factors have made it more desirable to them in recent years, including the ability to build homes at a lower price point than in Zionsville, and smooth processes to buy property and receive zoning approval.

Plus, the demand is there. Whitestown has been one of the fastest growing communities in the state for several years; 2015 estimates show its population more than doubled from 2010, to about 6,000.

"It's just kind of an exploding place that we believe is a great opportunity," said Steve Hatchel, vice president of sales and marketing for Indianapolis-based Arbor Homes LLC. "There's a pent-up demand that's not able to be met because there aren't enough projects available right now."

It wasn't long ago that the BAGI didn't even specifically track housing permits in Whitestown. The community was first recognized in 2011 data, when 128 permits were filed.

That number has increased ever since.

Eight neighborhoods saw new construction in 2016, and, while Anson has been an attractive area for homebuilders in recent years, most growth came from outside the 1,700-acre residential, commercial and retail development.

The largest occurred in Walker Farms, which is being developed by Atlanta-based Beazer Homes, and in Harvest Park, a project by Atlanta-based Pulte Homes. Both neighborhoods are northeast of Anson.

Harvest Park, which started in 2015, includes 416 lots with home plans that start from $192,000 to $226,000. Pulte is also developing the 269-lot Clark Meadows at Anson subdivision. Starting prices in Clark Meadows range from $249,000 to $349,000.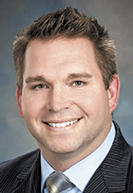 Mairn
Scott Mairn, division president for PulteGroup Inc., said sales in Clark Meadows increased 50 percent in 2016 and 40 percent in Harvest Park, although Harvest Park was not open for all of 2015.

"We're constantly looking at Whitestown as a target to grow our business and the community," Mairn said.

M/I Homes Inc. has also seen steady home sales in its Maple Grove subdivision that it started in 2013. Jerrod Klein, division vice president for M/I Homes of Indiana, said only 11 of 88 home sites remain and the company expects to sell those within a couple of months.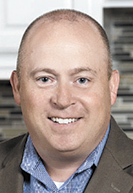 Klein
The 2,000- to 3,400-square-foot homes cost $260,000 to $395,000.

Klein said M/I Homes is already working to develop a couple of more Whitestown neighborhoods.

"They're not inked yet," he said, "but we're looking forward to getting those finalized."

So what's so great about Whitestown?

While buyers have always appreciated its location next to I-65, a big factor in recent growth has been the pro-growth attitude of town officials and the infrastructure they've put in place, said Kate Collins, BAGI director of government affairs.

"We work really well with their leadership," Collins said. "I think we're able to deliver a product that's in demand and gets approved."

Town officials take pride in their ability to work well with developers and ensure a smooth zoning process.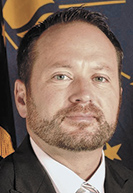 Norton
"There's no surprises when you come here," Town Manager Dax Norton said.

Zionsville officials, on the other hand, have acknowledged they are more particular in approving developments.



"Approvals aren't as easy to come by on all fronts," Collins said about Zionsville. "I think there is available land, but I think they're trying to focus on a certain type of product."

Specifically, home builders know their projects have to include higher price points in Zionsville than in Whitestown. The median home price in Zionsville is $343,300, while the median price in Whitestown is $169,400.

"It's just tougher and tougher to get things zoned at a price point that's right for everyone," Hatchel said.

Norton said Whitestown's goal is to be a "whole life community" representing all age demographics—and a lower cost of housing could help accomplish that.

While some suburbs are hesitant to approve lower-priced housing projects, for fear those properties' taxes won't be high enough to cover the cost of services for the neighborhood, Norton said that's not a concern in Whitestown.

He said the town's tax base is about 60 percent residential and 40 percent commercial and retail, which takes the pressure off relying so heavily on residential taxes.

"That's a beautiful balance," Norton said. "We're in very good financial health."

Housing growth in all categories is expected to continue, as Boone County is the fastest-growing county in the state.

Even Lebanon, which used to see only a handful of single-family housing permit filings each year, has seen a 1,600 percent spike over the last five years—from the two filed in 2011 to the 34 filed in 2016.

Zionsville's 20 percent five-year decrease in permit filings could turn around in 2017.

Officials say the town is still recovering from the economic downturn, which caused residential building to slow significantly.

Once construction started picking up again in recent years, the town had few undeveloped lots already platted and available.

But according to data provided by the town, 830 residential lots have either received preliminary approval, have entitlements in place, or have been officially approved and started construction.

More than 300 Zionsville lots are expected to be available for homebuyers this year, in nine neighborhoods.

Whitestown has multiple housing developments in the pipeline as well.

Norton said developers are looking at several large swaths of land north of what officials call the Legacy Core—Whites-town's downtown. Project announcements are expected within a few months.

And some subdivisions are already on track to break ground in 2017. Arbor Homes introduced a 107-lot neighborhood known as Edmonds Creek in December that will offer homes from 1,600 square feet to 3,200 square feet.

Hatchel, with Arbor Homes, said prices haven't been determined yet, but the company hopes to start pre-selling this summer and closing on properties by the end of the year.

Statewide housing growth could also be a good indicator of what to expect, according to officials. Through November 2016, permits statewide had increased 13 percent over 2015.

"I would say in Whitestown and throughout central Indiana, we'll see a little pickup," Collins said. "We continue to see that a lot of builders want to be in Whitestown."•