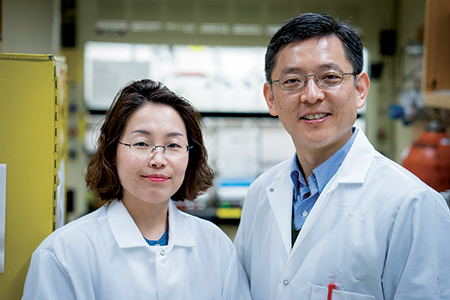 After spending about four years developing a potential breakthrough in cancer treatment, Purdue University Professor You-Yeon Won has made another discovery: Bringing a product to market takes business expertise.
"Just doing things in the lab does not necessarily eventually change the world," said Won, 47, a chemical engineer by trade and the founder and owner of the startup Lodos Theranostics LLC. "And commercialization has almost nothing to do with science and technology. It takes much, much, much more than science and technology. That's the most important thing I've learned."
Won's development, called radio-luminescent nanoparticles, is designed to enhance the cancer-cell-killing effects of radiation treatment. That, in turn, would reduce radiation doses and the side effects patients experience. He hopes to hold the first clinical trials in two to three years and, if all goes as planned, have the technology available within 10 years.
That might take tens of millions of dollars, Won said, which is why he's now focused on the business end of the company. So far, Lodos has been financed with a $20,000 state grant, and the company has pending grants totaling around $500,000 from the National Institutes of Health and the state. The company also is seeking angel investors.
Lodos has filed for three patents, which Purdue will own. The university grants the company exclusive licenses to the technology. Eventually, Won expects to strike deals to transfer technologies and licenses to big pharma or biotech companies.
"We are in the early stage of the development right now," Won said. "But as far as the technology is concerned and market potential is concerned, we are very confident that there is huge potential."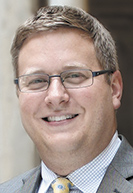 Steff
So is Ian Steff, chief innovation officer for the Indiana Economic Development Corp. Steff said life sciences had a $62 billion economic impact on Indiana last year, employs more than 56,000 Hoosiers, and accounts for more than 1,700 companies. That's why the state plans to invest $1 billion over the next 10 years to advance innovation and entrepreneurship.
"I think 50 years from now, we will have the next Col. Eli Lilly and Bill Cook and other life sciences leaders who will be nationally and globally recognized from the state of Indiana because of the efforts that companies like Lodos Theranostics is making today," he said.
Lodos is currently two people—Won and Rachel Kim, an MBA graduate from MIT—who will be working from incubator space at Purdue Research Park in West Lafayette. Won said the two are now recruiting a CEO to help develop partnerships with big pharma and biotechnology companies, and also to raise funds. They also plan to add a director of research and development.
In the interim, they're getting help from the Purdue Foundry, the university's entrepreneurship and commercialization accelerator, which has faculty members, graduate students and post-doctoral students who give workshops on how to start a company. Won said foundry entrepreneurs in residence have been instrumental in providing him with training.
Won, who grew up in South Korea and came to the United States in 1994 for graduate school, said he came up with the idea of radio-luminescent nanoparticles while researching another idea. He traces his "Aha!" moment to March 14, 2013, when he figured out how to use ultraviolet light to penetrate deep tissue.
The technology Won developed has the potential to make him wealthy. He has more altruistic goals.
"If this technology works out well, I can save people—help people have a longer life, help doctors help cure cancer," he said. "That's what excites me the most."•
Please enable JavaScript to view this content.