The new leader of the Indianapolis Housing Agency's development arm brings a wealth of experience to her new role, most notably as project manager of the city's massive Fall Creek Place residential project.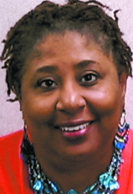 Jennifer Green
Jennifer Green, 58, officially transitioned Jan. 9 from vice president to president of IHA's Insight Development Corp., taking the reins from Bruce Baird. He left to direct the not-for-profit Renew Indianapolis land bank.
"It was the next logical step," Green said of her appointment. "It was just kind of a natural progression."
Since its inception in 1999, Insight has served as sole developer or co-developer on 721 affordable units, 78 market units and 52 homeownership units totaling $250 million.
Its largest projects include the $24 million Millikan on Mass development, lining Massachusetts Avenue and East Michigan Street across from the Athenaeum. Completed in December 2015, it includes 64 new market-rate apartments and 61 affordable units, in addition to 20,000 square feet of retail space.
Another is 16 Park, the $34 million, 11-building project along 16th Street between Central and College avenues.
Insight was established to support IHA's mission by expanding the supply and quality of affordable housing in Marion County. But it never really had much of an impact until Baird's arrival to IHA in 2005. He started leading Insight in 2007, a year before Green came on board.
She started as a senior project manager at IHA and ascended to director of strategic planning and development in 2012. That same year, Green took on a dual role, becoming vice president of Insight and helping Baird to further revive it.
Bud Myers, IHA's executive director, said in a press release that Green was the agency's first choice to succeed Baird.
"Jennifer brings a wealth of experience to the role, having worked for over 20 years in the community and economic development sector," he said.
Green, a native of Marion, graduated in 1978 from Indiana University-Purdue University Fort Wayne, earning a degree in accounting. During her first job, at Methodist Hospital in Indianapolis, she worked in the facilities department and became involved in construction and maintenance.
In 2000, Green joined the Bart Peterson administration and oversaw the development of Fall Creek Place, a city initiative to bulldoze entire blocks for residential redevelopment on the near-north side. From 2006 to 2008, before joining IHA, she was the city's assistant administrator of community development.
Unlike her work at the city, leading the Fall Creek development, Green's focus at IHA and Insight has mostly involved affordable apartment developments. But Insight is beginning to tackle more single-family housing projects.
It so far has purchased eight homes from Renew Indianapolis as part of Insight's Rock n Riverside initiative to rehab homes in the Riverside neighborhood on the city's near-west side. The project ultimately could include up to 50 houses.
"This is a little new for Insight," Green said. "We wanted to start slow and see how it goes."
No matter the form, there's always a need for more quality affordable housing in the city, where a significant amount of the population is spending more than 30 percent of incomes on housing, she said. The 30 percent figure traditionally has been used as the rule of thumb when buying or renting a home.
"People are finding housing," Green said, "but it's just not affordable."
Please enable JavaScript to view this content.